Environment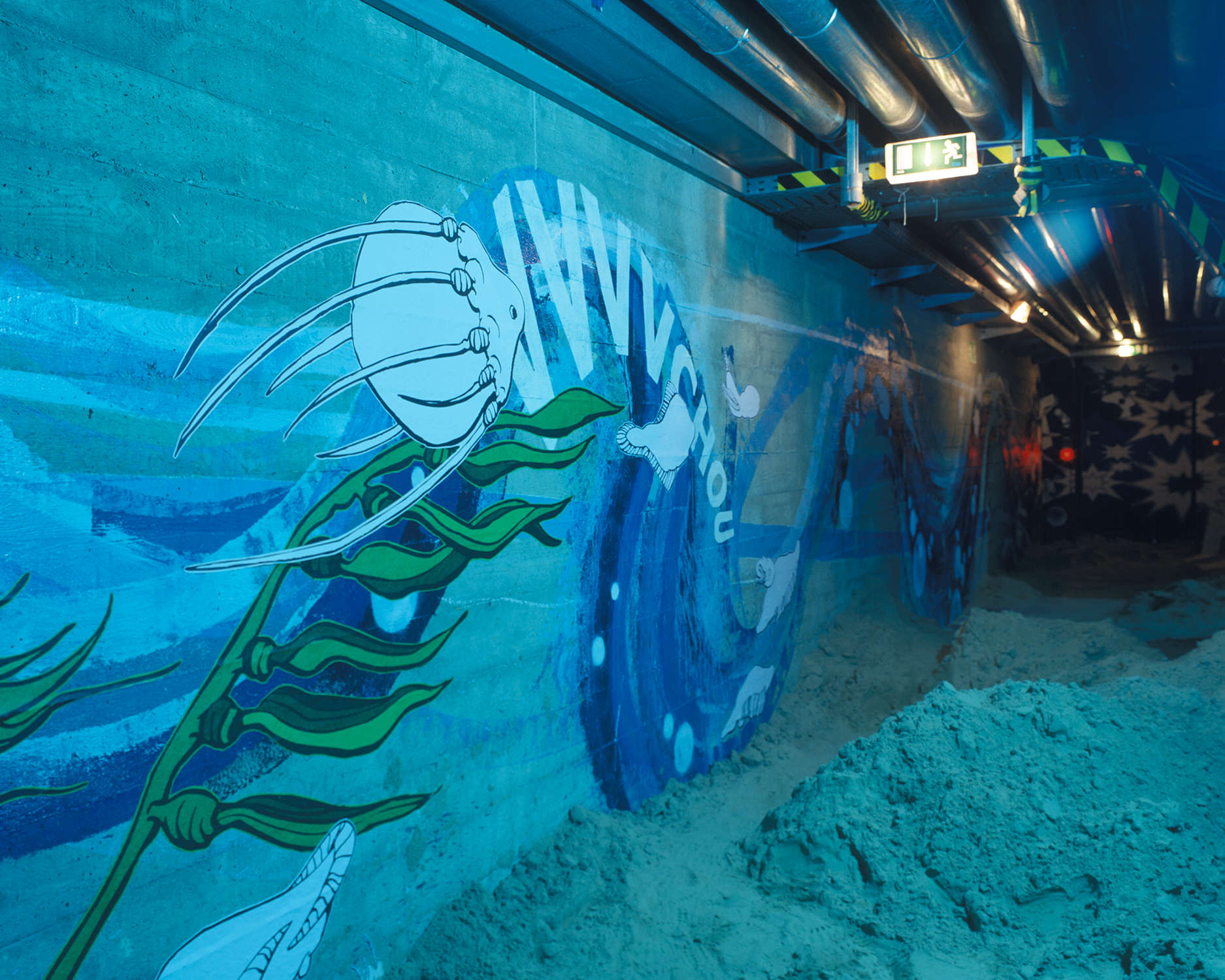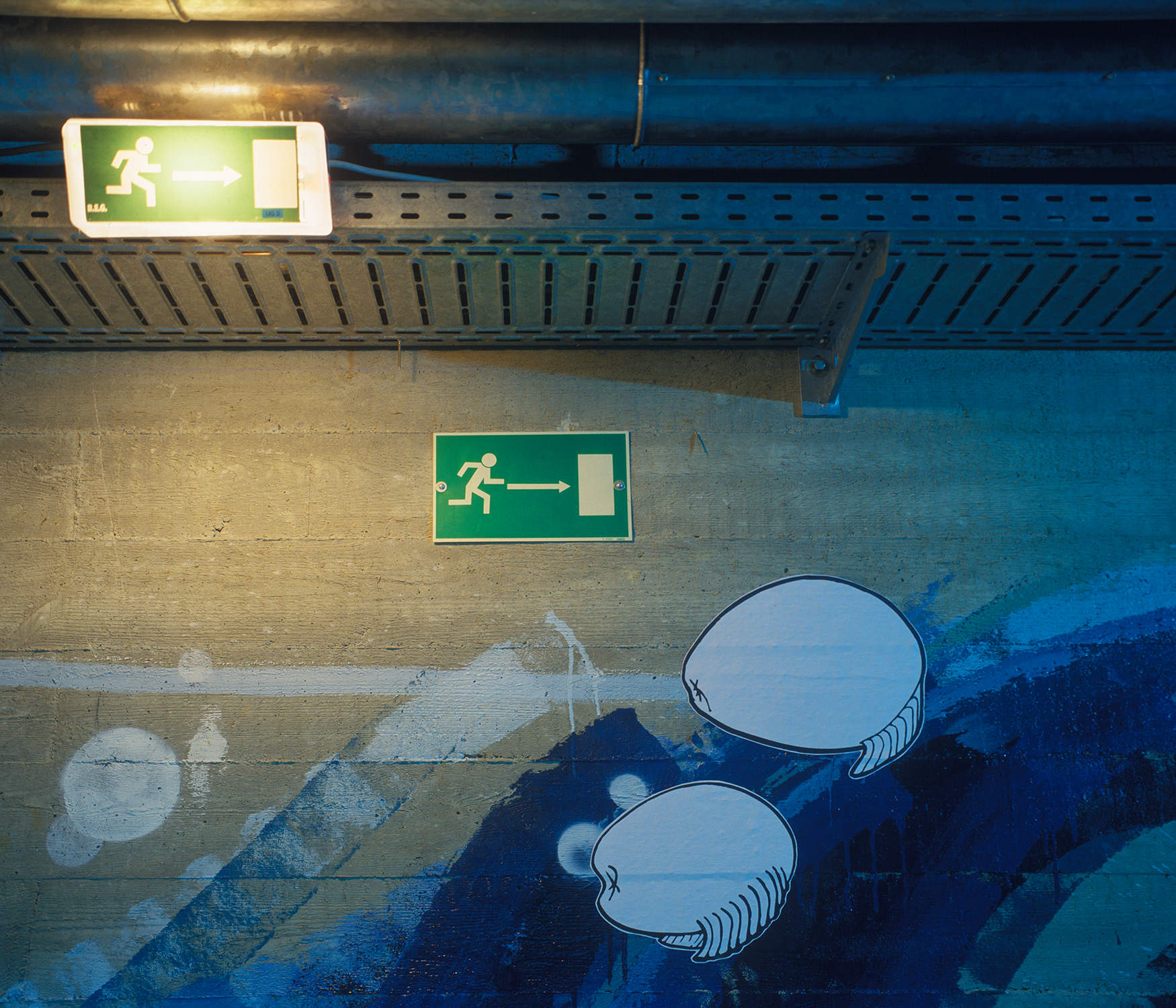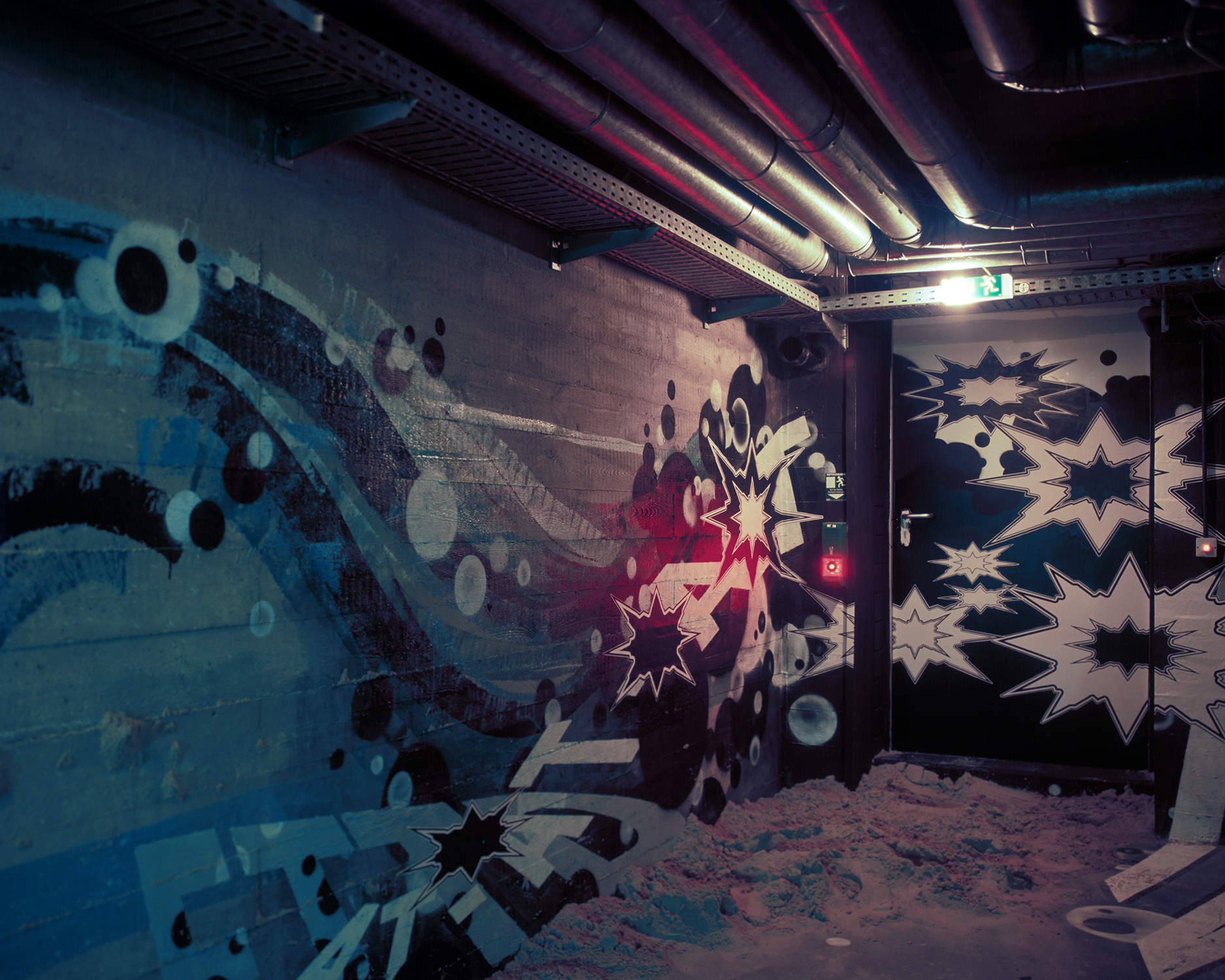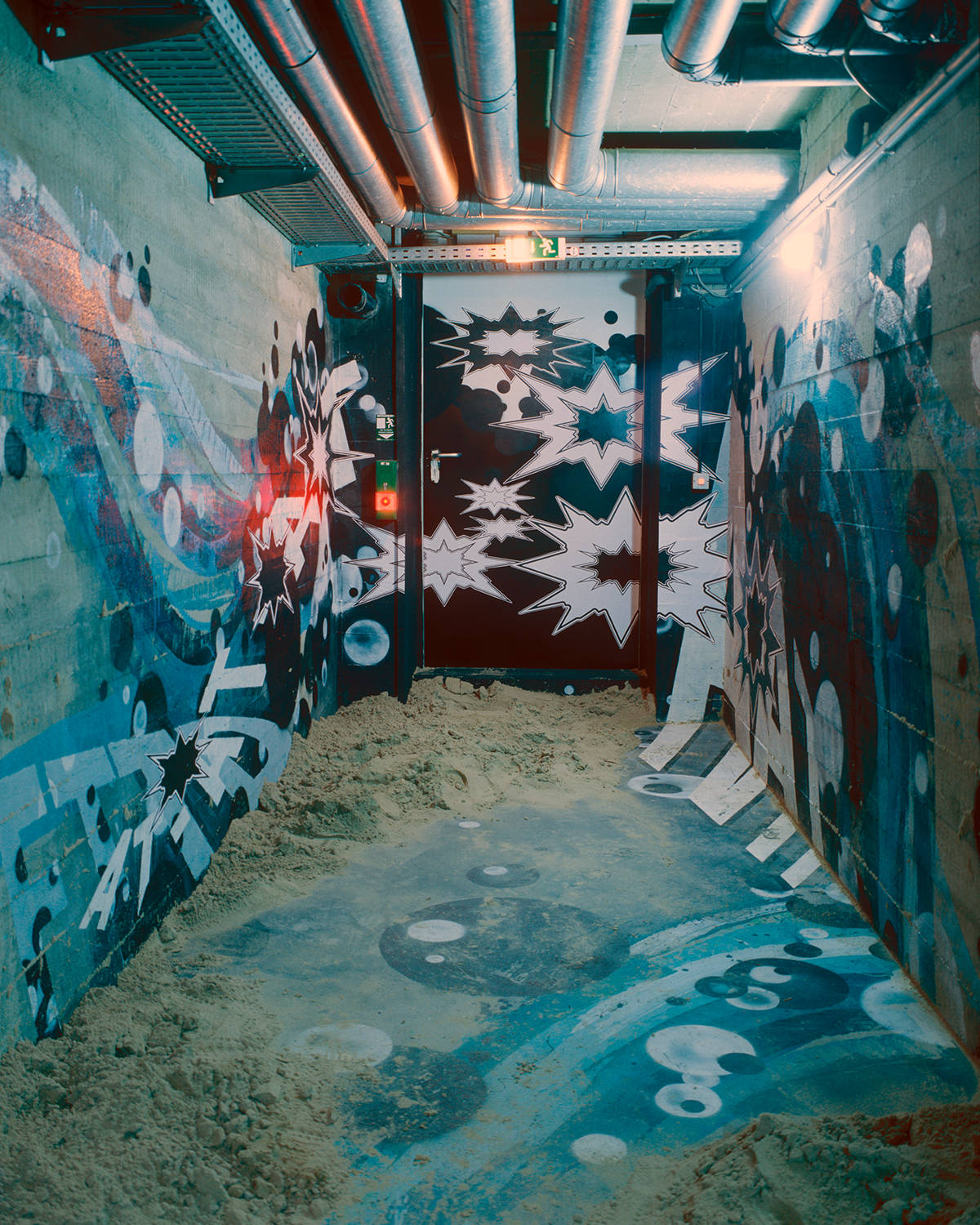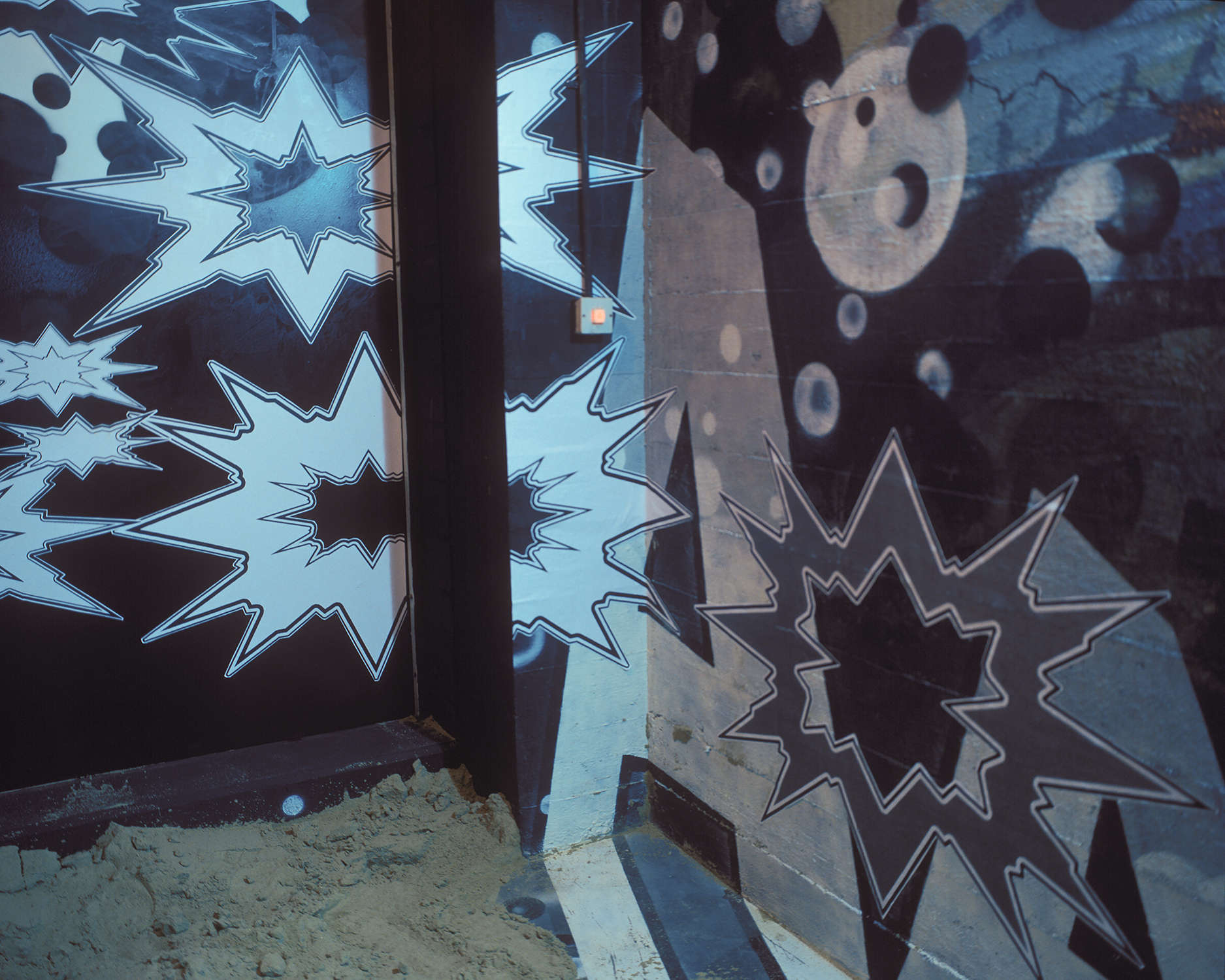 Sand, emulsion paint, acrylic lacquer, spray paint, wallpapered prints, spotlights, soundtrack, speakers
1.75 m x 2.30 m x 17.00 m
5:54 min (continuous loop)
2005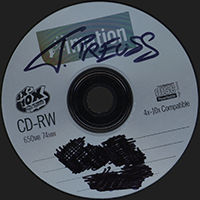 Clip from soundtrack (0:40 min)
Guitar and additional lyrics: Julia*n Meding
The traversable environment "Leben in LaLagune" ("Life in LaLaguna") continues the storyline of my earlier work "TreibHausHirn": Unsuspecting in its juvenile naivete, the freshly hatched Young Brain falls victim to the Mainstream. Along with countless other creatures, it is pulled under water and forced to swim with the stream, forever after. The longer the creatures allow themselves to drift, the more similar they become, until they are reduced to bulbous beings with no distinguishing features, except for fins and assholes. The artwork combines imagery created in various collage and painting techniques with a soundtrack. It occupies the entire length (17m) of a basement corridor, with speakers and spotlights placed in adjacent air shafts. Due to the narrow and confined exhibition space, the work is impossible to behold in its entirety and in all its details at a glance. Instead, the visitor is forced to slowly work their way through the sand — scene by scene and along the storyline, as if they were moving through a sequence of panels in a comic strip.
Script

[ICH HAB' NOCH KEINEN TITEL]
VON WO NACH WOANDERS.
HOCH AM HIMMEL:
EIN JUNGES HIRN!
UNTEN AM BODEN:
DER DSCHUNGEL, HOHES GRAS.
GRILLEN, ZIRPSEN, TIERE SCHREIEN.
OBEN: SAUSEN, BRAUSEN, TOBEN.
DAS JUNGE HIRN SCHLÄGT MIT DEN FLÜGELN
UND BRÜLLT:
"NEE! JETZT. HIER:
VON INNEN WOANDERS HIN!
***!
DAS WIRD SCHÖN!"
GÜLDEN GLITTER GLITZER FLITZER.
GÜLDEN GLITZERT DAS JUNGE HIRN!
WIND WEHT.
FETTE WINDSÄCKE.
WER SIND SIE?
NACH WEM DREHN' SIE SICH?
WIE? WOZU? OB MIT ERFOLG? –
--- DIE SÄCKE: "WIR SÄCKE SAGEN NIX!"
DIE SÄCKE WEHN' IM WIND.
DIE SÄCKE SAGEN NIX.
ABGANG SÄCKE.
DAS JUNGE HIRN, VERWIRRT. STEIGT HERAB.
RUFT IN DEN WALD HINEIN.
MITTEN IM WALD,
AN DER QUELLE DER WEISHEIT:
EINE ALTE MUTTERPFLANZE.
SIE SAGT:
"HIRN, WAS DU NOCH NICHT WEISST:
FETTE WINDSÄCKE SIND ROT-WEISS GESTREIFT!"
--- "ACH WAS!" RUFT DAS HIRN.
"ICH FOLG' DEN SÄCKEN!"
WOHER? WOHIN? WOZU? – EGAL!
WAS FETTE WINDSÄCKE WISSEN
IST NICHT WOHER, WOHIN, WOZU,
SONDERN WIE DER WIND WEHT
WENN DER WIND DREHT.
--- "ICH WERDE EIN WESEN IM WIND!"
HIRN FLIEGT ÜBER LAND,
FLIEGT ÜBER WASSER,
ÜBER WASSER
INS UNTERWASSER!!!
DER WIND WIRD STROM,
STROM IM UNTERWASSER.
DAS HIRN KOMMT INS SCHWIMMEN
UND FÄNGT AN ZU KREISCHEN.
STROM UMSCHLINGT HIRN
UND HERRSCHT ES AN:
"TIEF FLIEGEN
TIEF TAUCHEN
TIEFFLIEGEN
LAUT SINGEN
PHRASEN SCHWINGEN
TIERE FLIEGEN
TIEF LÜGEN
TIEF FÜGEN!"
WIRST EIN WESEN IM STROM!
STROM.
STROMSCHNELLEN.
STROM WIRD SCHNELLER.
WESEN IM STROM
WERDEN ZU STROM-
LINIENFÖRMIGEN
WESEN.
BLICK VORAUS; ES WIRD ENG.
DIE SÄCKE SIND NIRGENDS ZU SEHN'.
DER STROM HAT SIE LÄNGST ABGEHÄNGT.
DIE FÜHRUNG ÜBERNIMMT ER SELBST.
KLAPPAUGE.
KLAPPAUGE KOMMT.
SIEHT.
UND BLEIBT STEHEN.
KLAPPAUGE KLAPPT AUF.
ES WIRD DUNKEL.
DEM HIRN GEHT EIN LICHT AUF.
UND ES HÖRT AUF.
UND TAUCHT AUF.
UND GEHT AN LAND.
GÜLDEN GLITTER GLITZER FLITZER.
GÜLDEN GLITZERT DAS JUNGE HIRN!
NUR FEUCHTER ALS ZUVOR.
ENDE.
* English translation not available at this time.