Media installation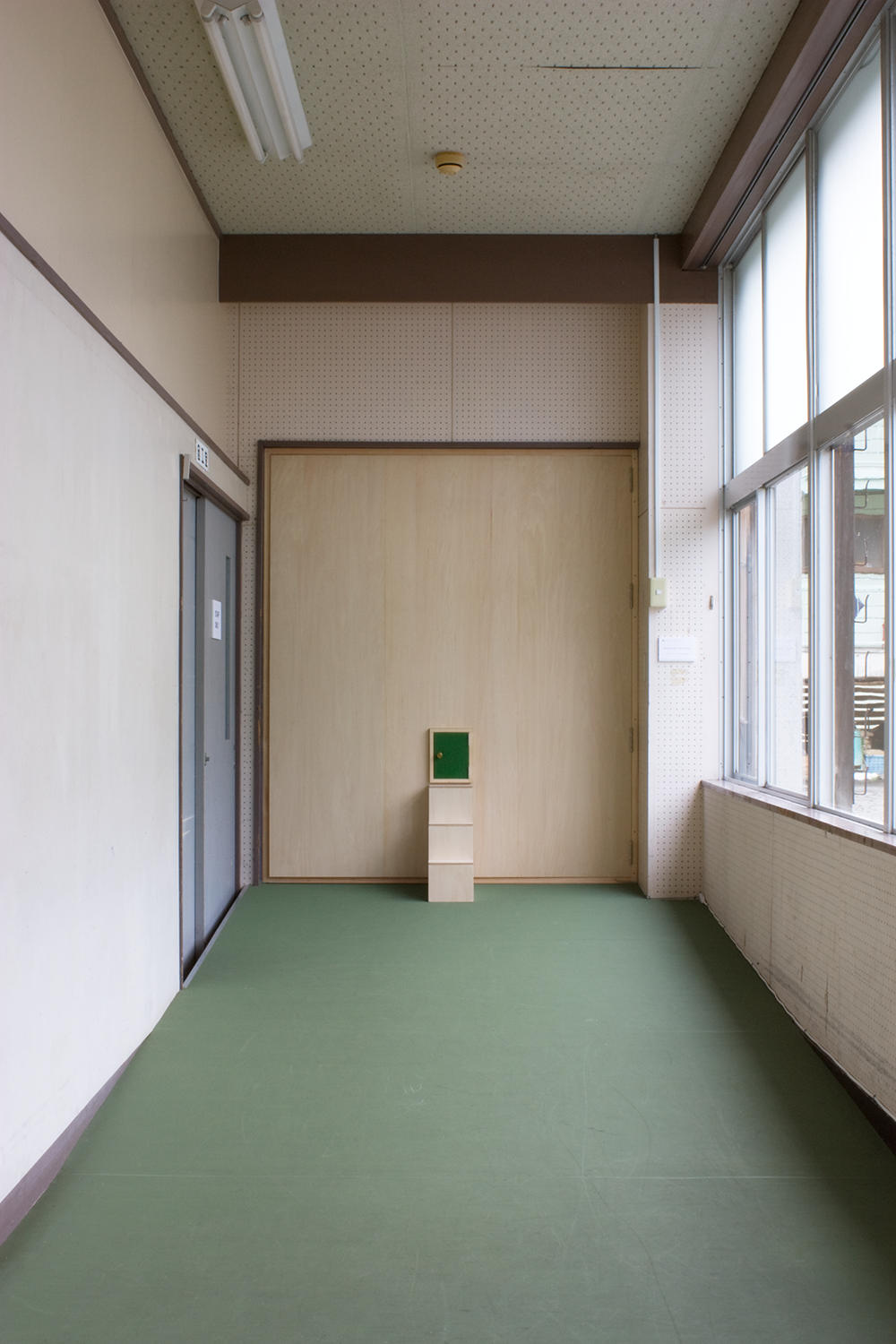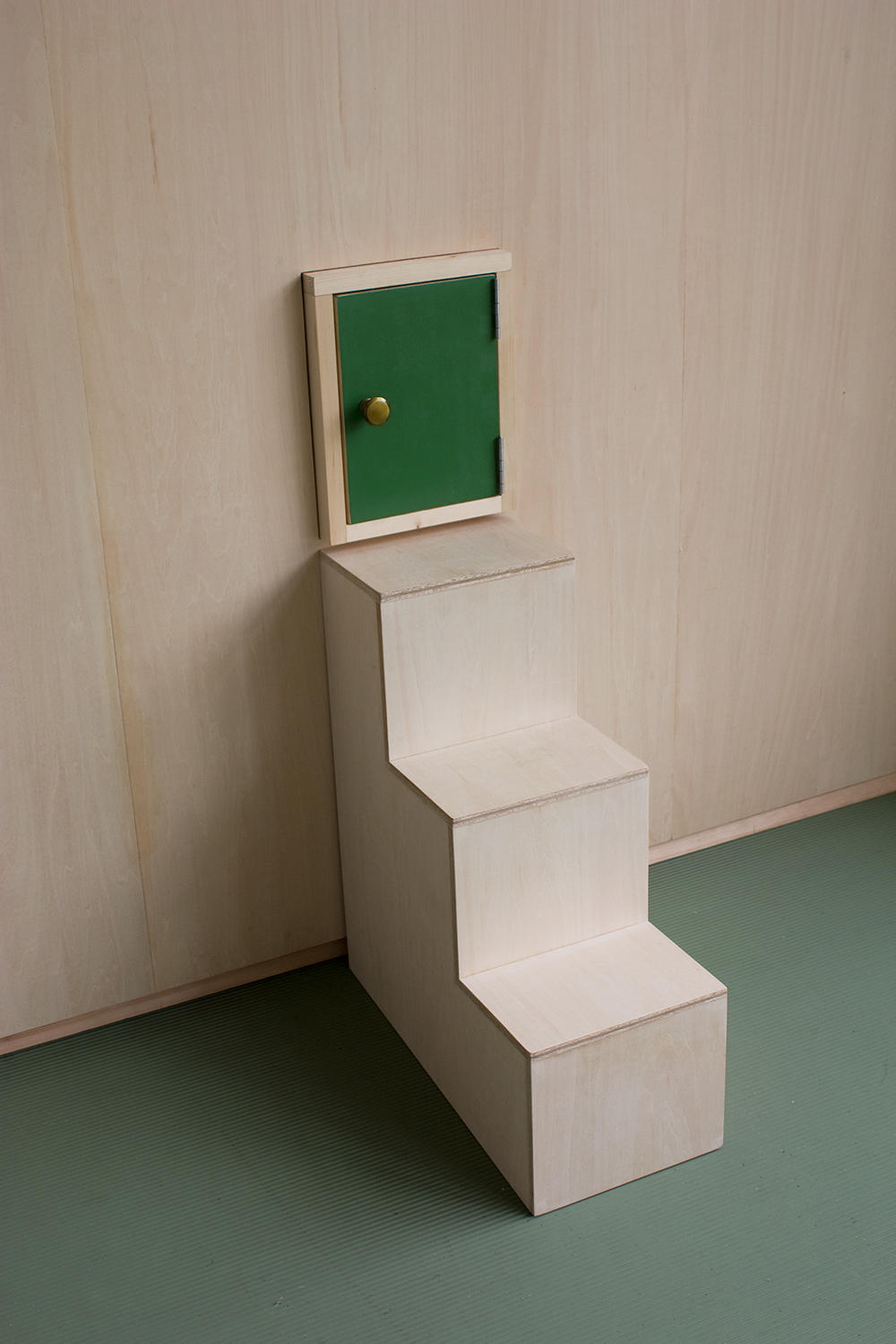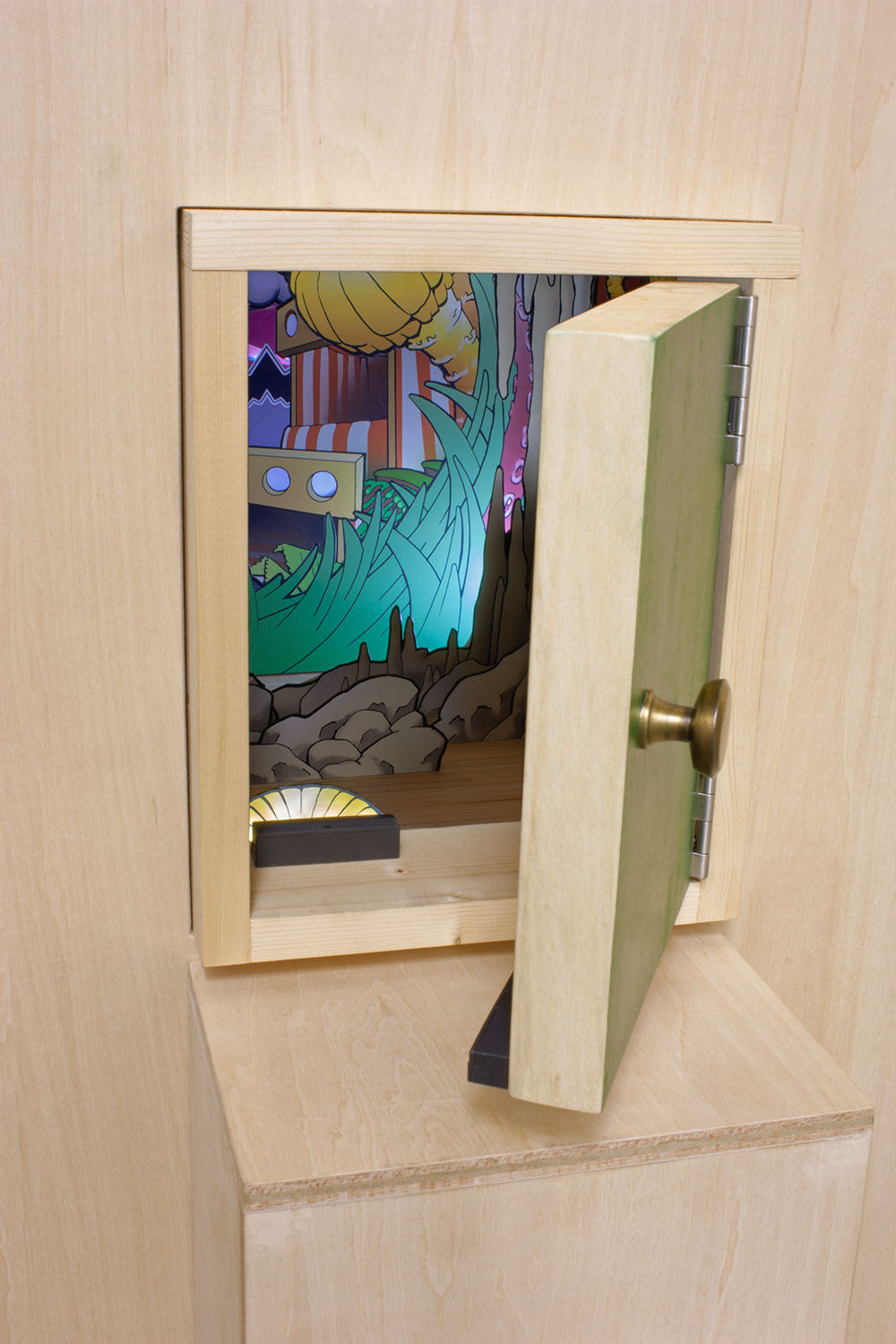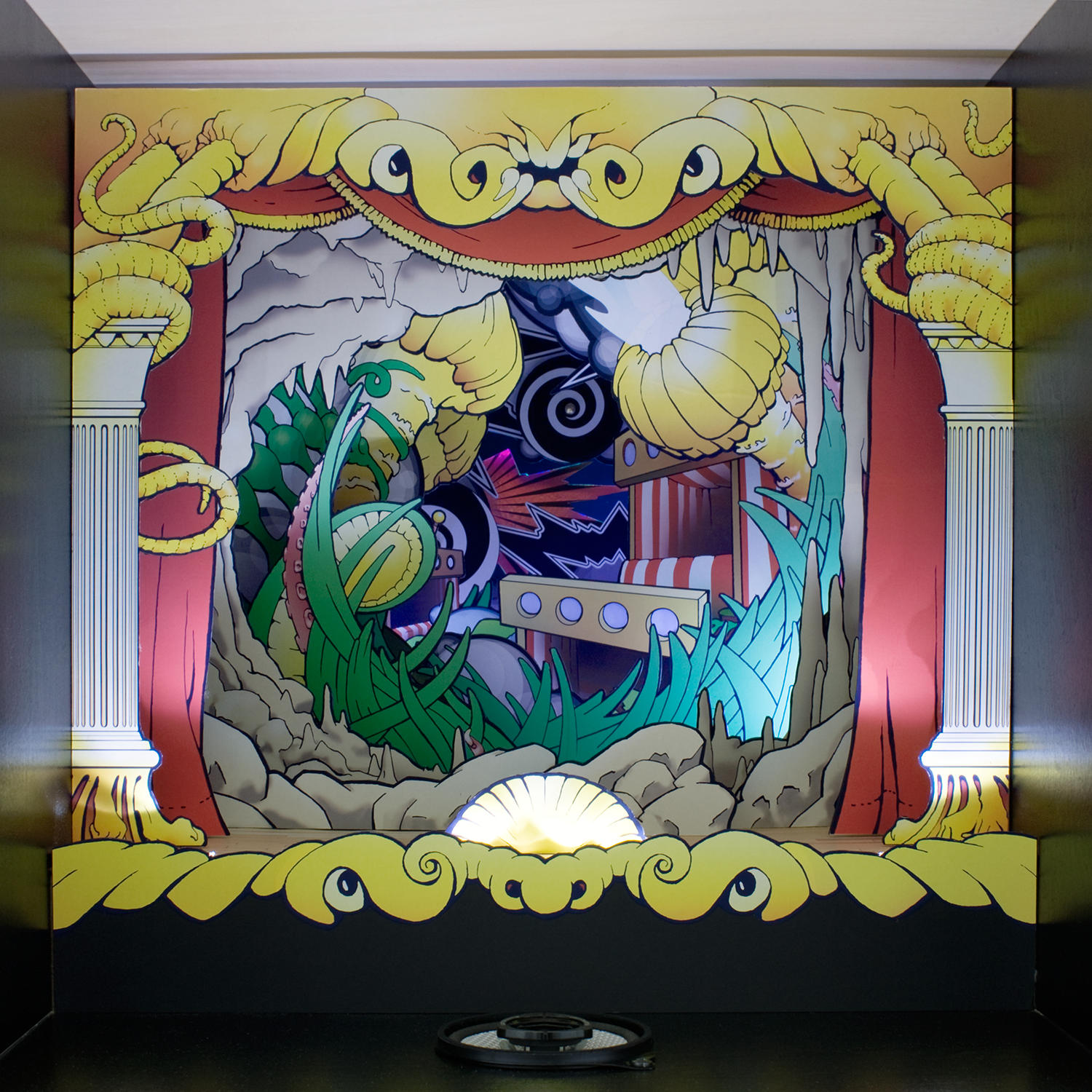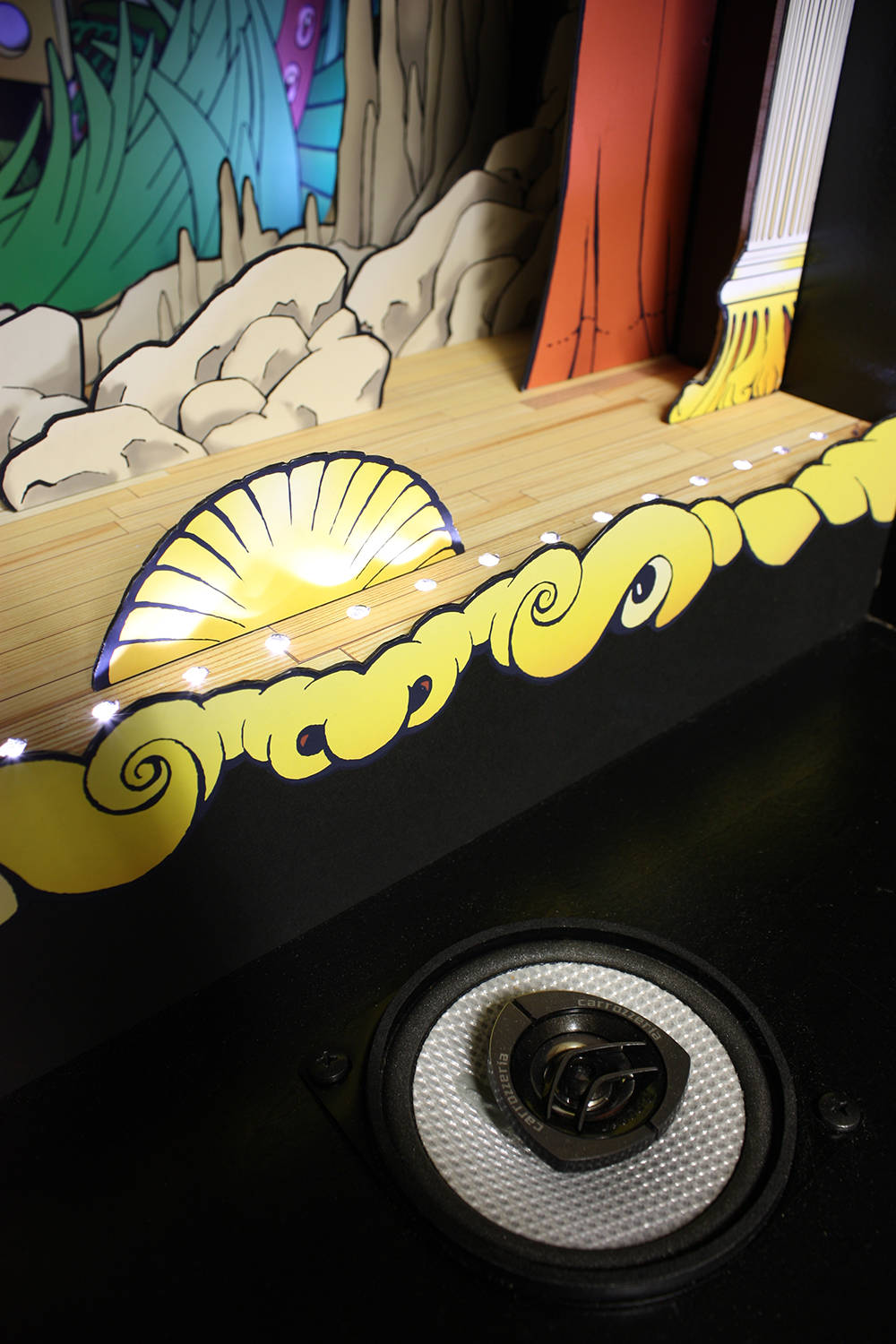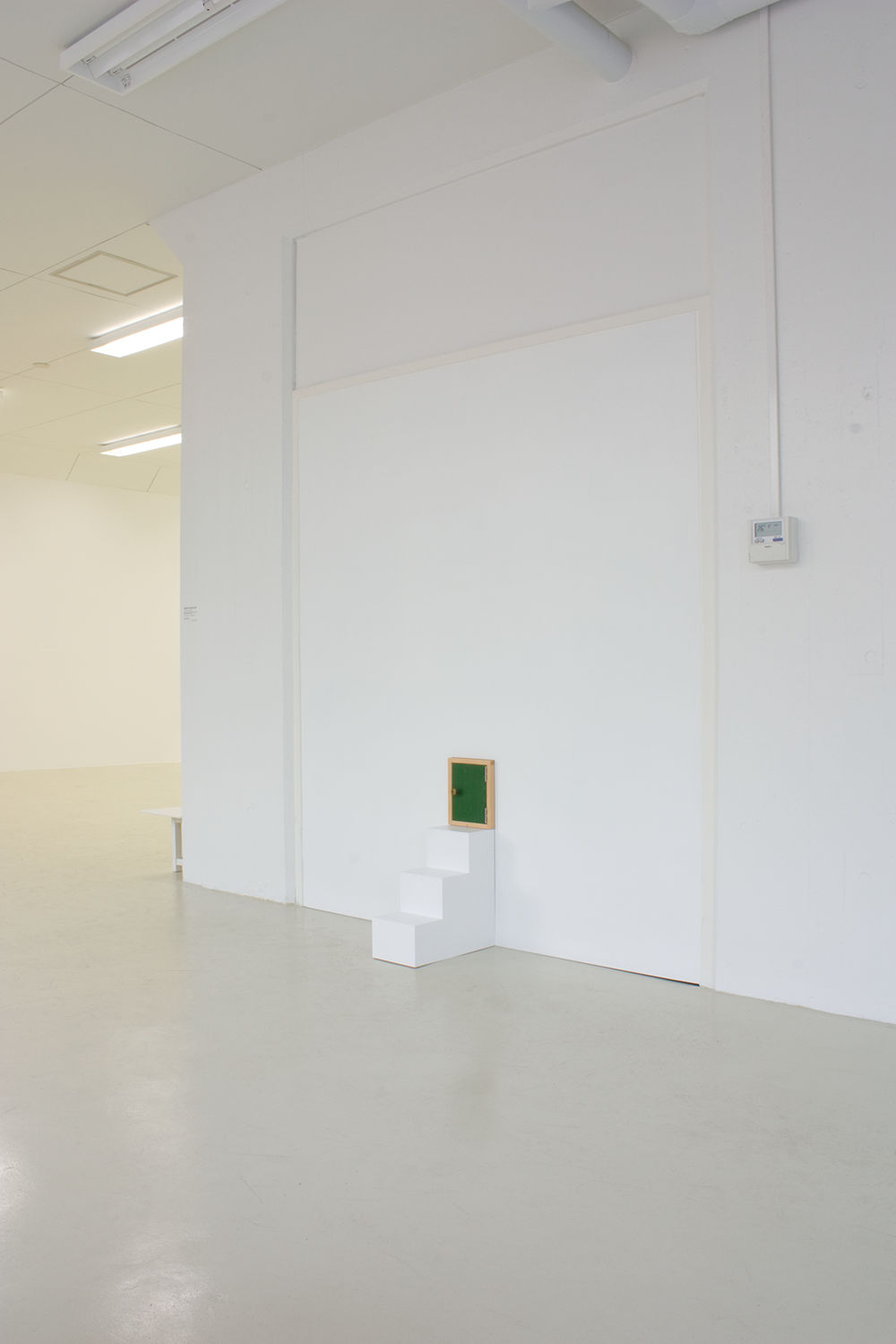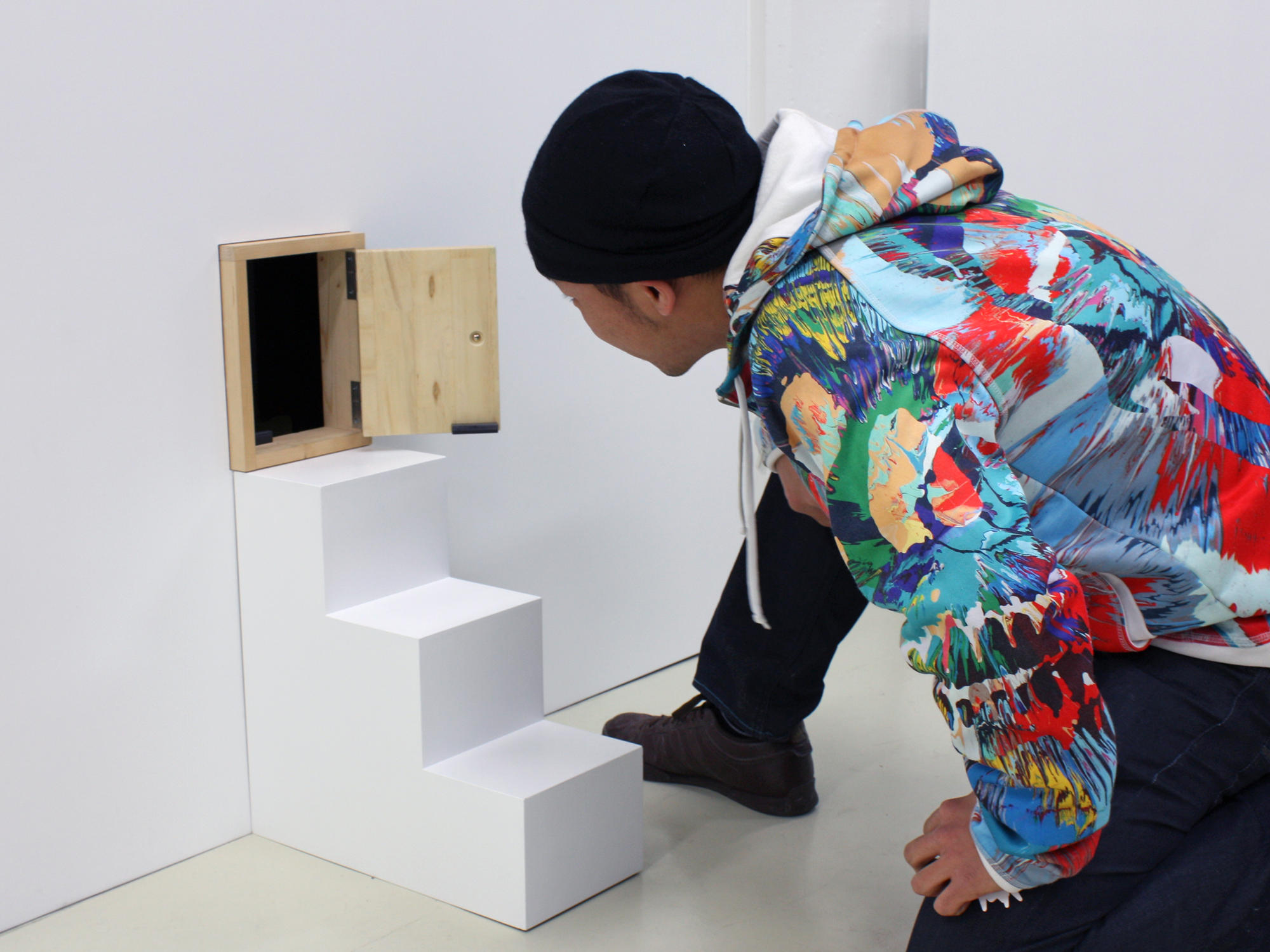 Wood, MDF, paper, cardboard, adhesive film, acrylic lacquer, motors, magnet switch, analog control units, LEDs, speaker, soundtrack
60 cm x 50 cm x 100 cm (interior)
1:00 min (triggered by door switch)
2009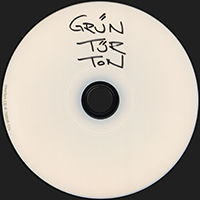 Installation soundtrack (0:54 min)
16-bit, 44.1 kHz mono
"BEHIND THE GREEN DOOR" was created for the 2009 edition of the Echigo-Tsumari Art Triennale in a rural region of northern Japan. A former elementary school in a small mountain village served as an exhibition space. These cheerless surroundings, still reminiscent of boring everyday school life, would now provide the backdrop for an art extravaganza aimed at an urban audience, traveling to this remote community with high expectations. Borrowing from Lewis Caroll's "Alice's Adventures in Wonderland", I inserted a fake wall with a tiny green door into a nondescript passageway. There are no instructions for the puzzled visitor on how to deal with the situation. They can either walk away, or kneel down in order to satisfy their curiosity. When they open the door, which is obviously too small for them to fit through, the miniature theater on the inside is powered on. An impatient voice quizzes the viewer about their motivations to visit the exhibition, warns them that the fantastic scenery is not real and finally advises them to shut the door and go home. The soundtrack for the installation was composed on leftover instruments from the school's music department, an old glockenspiel and a broken 1970s synthesizer.
Script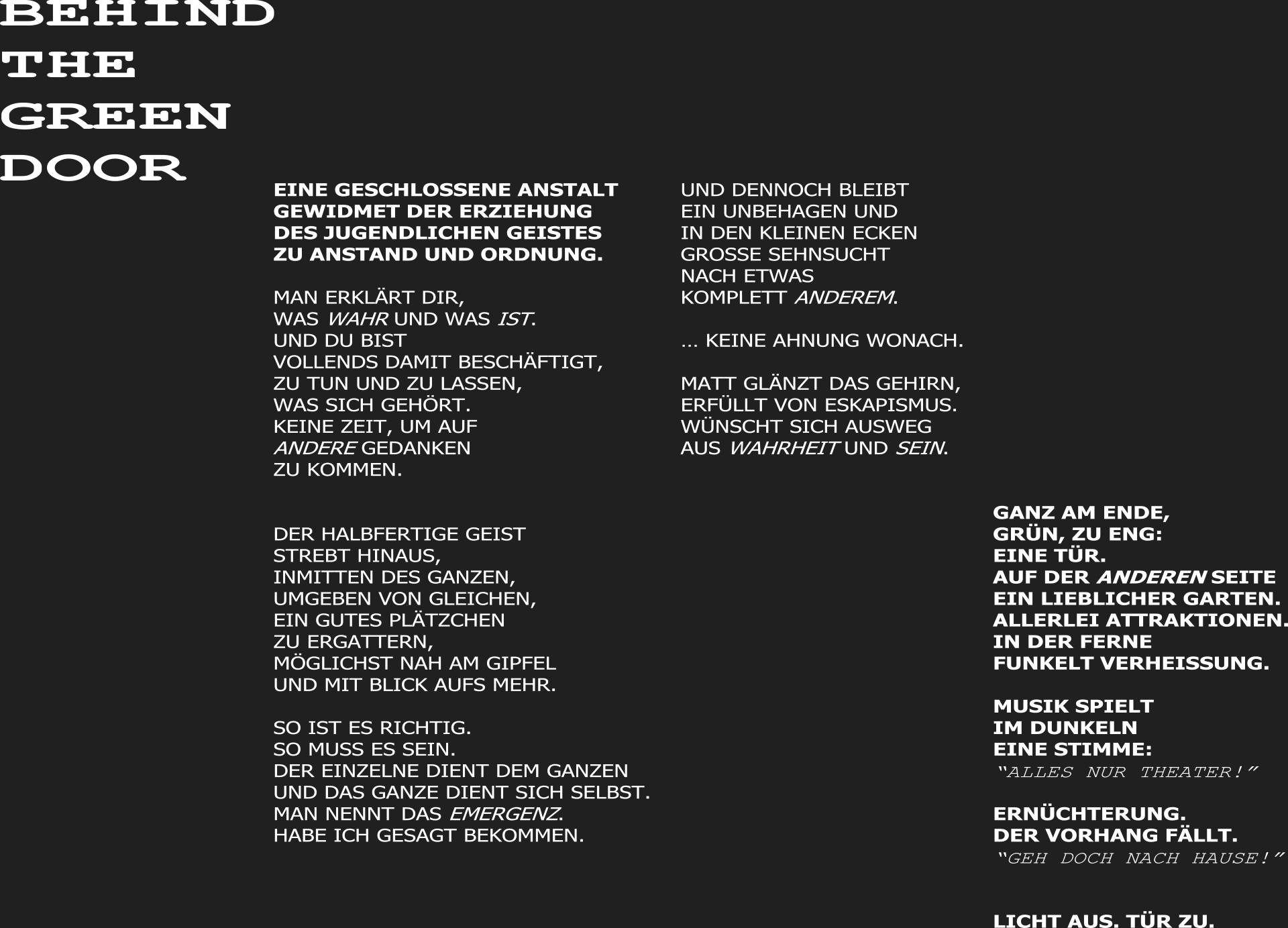 BEHIND THE GREEN DOOR
EINE GESCHLOSSENE ANSTALT
GEWIDMET DER ERZIEHUNG
DES JUGENDLICHEN GEISTES
ZU ANSTAND UND ORDNUNG.
MAN ERKLÄRT DIR,
WAS WAHR UND WAS IST.
UND DU BIST
VOLLENDS DAMIT BESCHÄFTIGT,
ZU TUN UND ZU LASSEN,
WAS SICH GEHÖRT.
KEINE ZEIT, UM AUF
ANDERE GEDANKEN
ZU KOMMEN.
DER HALBFERTIGE GEIST
STREBT HINAUS,
INMITTEN DES GANZEN,
UMGEBEN VON GLEICHEN,
EIN GUTES PLÄTZCHEN
ZU ERGATTERN,
MÖGLICHST NAH AM GIPFEL
UND MIT BLICK AUFS MEHR.
SO IST ES RICHTIG.
SO MUSS ES SEIN.
DER EINZELNE DIENT DEM GANZEN
UND DAS GANZE DIENT SICH SELBST.
MAN NENNT DAS EMERGENZ.
HABE ICH GESAGT BEKOMMEN.
UND DENNOCH BLEIBT
EIN UNBEHAGEN UND
IN DEN KLEINEN ECKEN
GROSSE SEHNSUCHT
NACH ETWAS
KOMPLETT ANDEREM.
... KEINE AHNUNG WONACH.
MATT GLÄNZT DAS GEHIRN,
ERFÜLLT VON ESKAPISMUS.
WÜNSCHT SICH AUSWEG
AUS WAHRHEIT UND SEIN.
GANZ AM ENDE,
GRÜN, ZU ENG:
EINE TÜR.
AUF DER ANDEREN SEITE
EIN LIEBLICHER GARTEN.
ALLERLEI ATTRAKTIONEN.
IN DER FERNE
FUNKELT VERHEISSUNG.
MUSIK SPIELT
IM DUNKELN
EINE STIMME:
"ALLES NUR THEATER!"
ERNÜCHTERUNG.
DER VORHANG FÄLLT.
"GEH DOCH NACH HAUSE!"
LICHT AUS. TÜR ZU.
* English translation not available at this time.