Video animation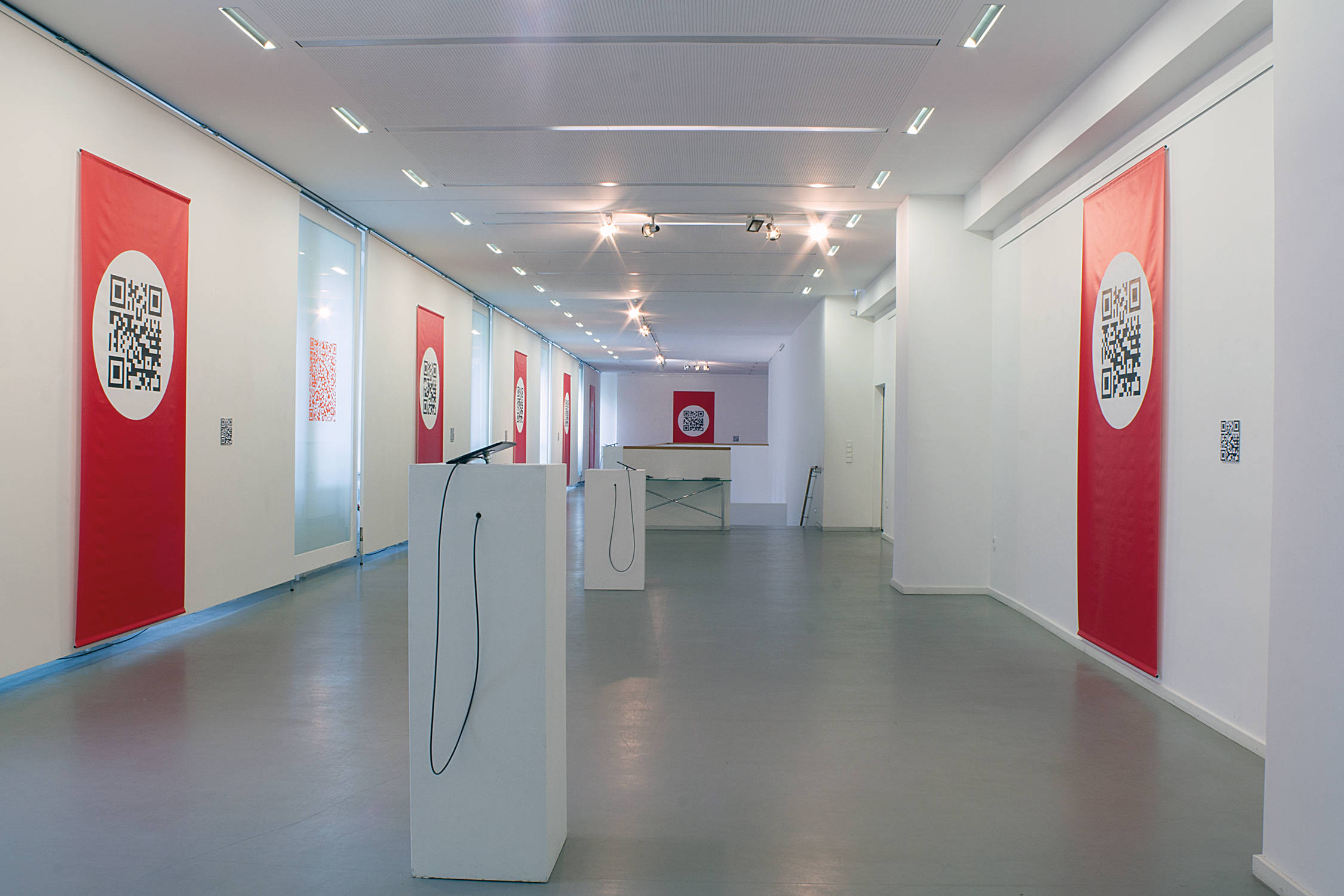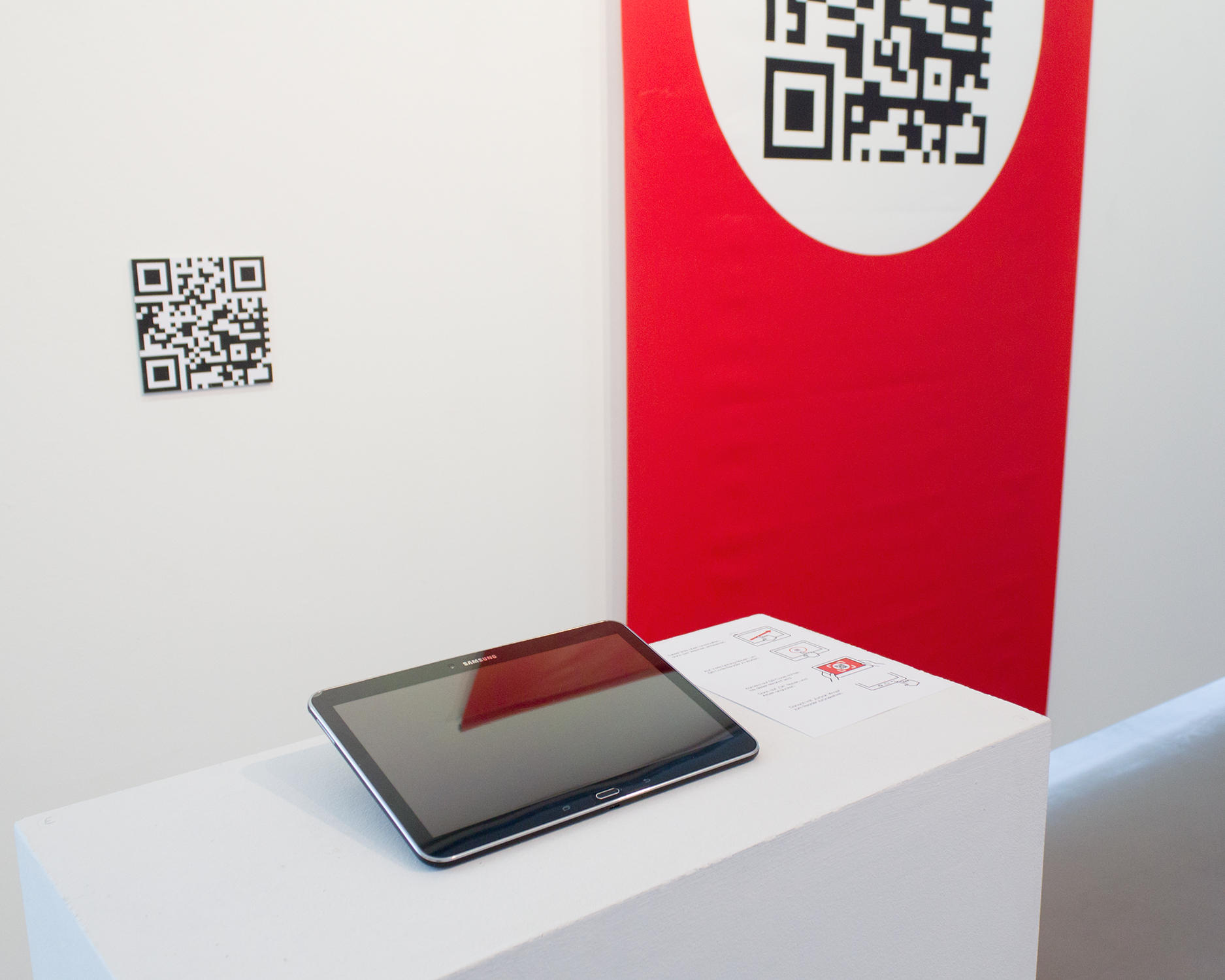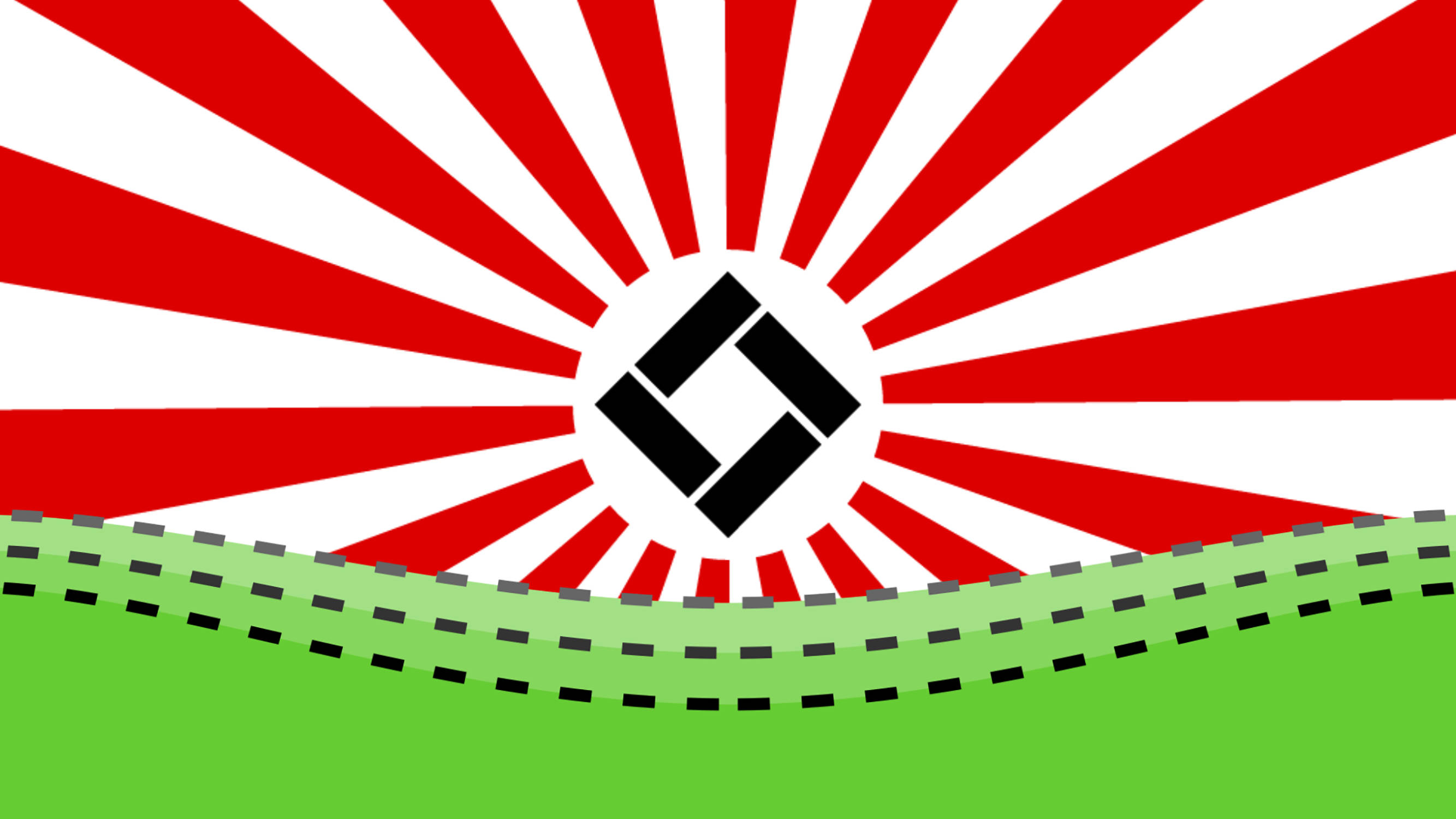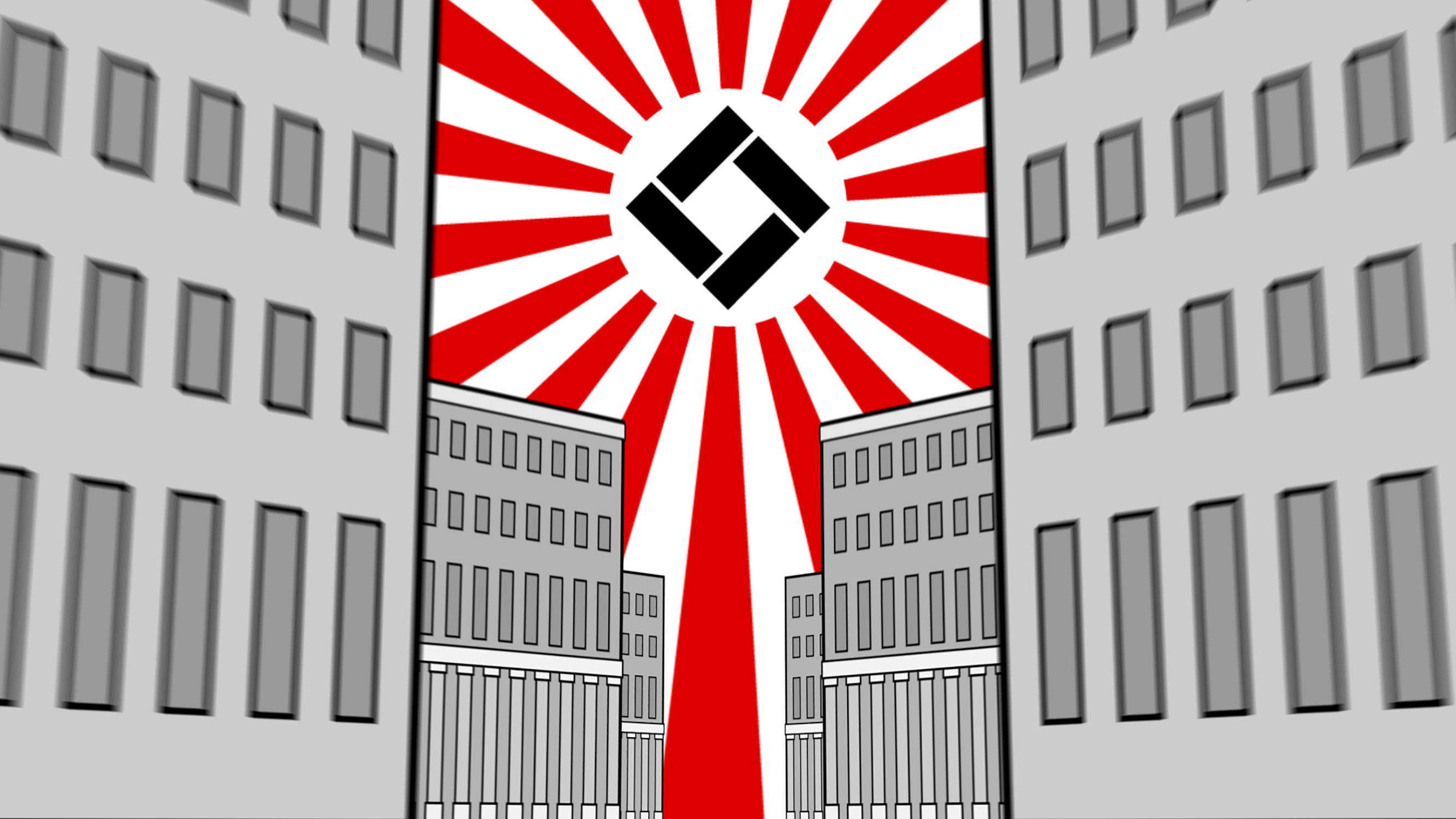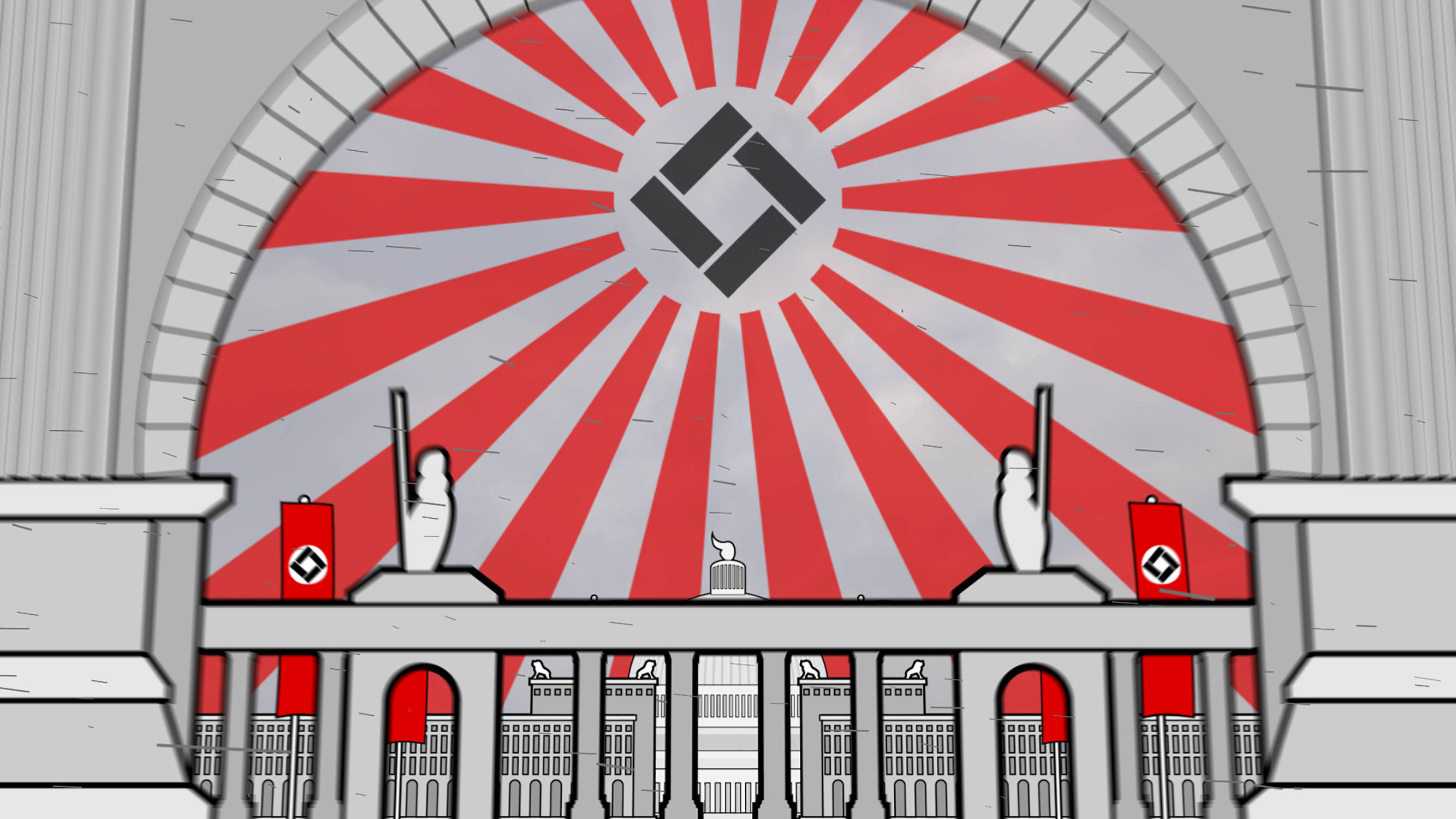 HD 1080p, color, 16-bit 48 kHz stereo
3:10 min
2016
I animated this short video for the group show "HÄSSLICHE KOPIEN" ("Ugly Copies") at Kommunale Galerie Berlin. The exhibition concept was developed by the artist group Happenstudio in collaboration with Iraqi artist and dissident Munir Alubaidi and Georgian painter Gogi Gelantia. Entering an otherwise empty exhibition space, the visitor is confronted by 10 seemingly identical flags that closely resemble the national flag of the Third Reich. But instead of a swastika, they each show a different QR code that the visitor can scan with the available tablet PCs (or their own smartphone). This will take them to the individual artworks, which can only be experienced on screen. The focus of the show is on the power of algorithms and of totalitarian systems over the individual, to some extent informed by the artists' personal experience or family history. The exhibition title was derived from a flawed — but accurate — retranslation of an Arabic language version of an essay by Karl Marx: "Hegel remarks somewhere that all great world-historic facts and personages appear, so to speak, twice. He forgot to add: the first time as tragedy, the second time as farce."
My own contribution "Der Glanz der Sonne" ("The Splendor of the Sun") also examines fascist aesthetics: Accompanied by chopped-up and reassembled fragments from operas and military marches by the composers Richard Wagner and Herms Niel, my video explores the utopian myth of the so-called Welthauptstadt Germania (World Capital Germania) that Berlin was meant to be transformed into after the planned victory in World War II. The original designs by Nazi architect Albert Speer and surviving buildings from the era served as visual templates, as did Fritz Lang's silent movie "Metropolis".
Exhibition concept and artworks by: Munir Alubaidi, Gogi Gelantia, Happenstudio (Nathalie Guilbaud, Tatjana Preuss, René Otto Simon, Herma Auguste Wittstock, Marie Zbikowska)
DER GLANZ DER SONNE (full video)
Screenplay
DER GLANZ DER SONNE
EIN BÜNDEL VON WARHEITEN
IM BÜSCHEL DER MÖGLICHKEITEN,
EIN ZÄHER STRANG
AUS BEINAHE GEWESENEM.
ERDACHT VON ANDEREN,
ERSEHNT VON UNS ALLEN.
DAS GOLDENE ZEITALTER,
DER HEILIGE SCHEIN.
IMMER IN DER ZUKUNFT
UND
DER VERGANGENHEIT ZUGLEICH.
ÜBER EINEM TAL
GEHT DIE SONNE AUF.
GÜLDEN UND SCHWER
STEHT SIE IM HIMMEL,
HÜLLT DIE WELT
IN IHREN GLANZ.
IHR GEWICHT
KRÜMMT DEN RAUM
UND VERBIEGT DIE ZEIT.
ALLES BEGINNT SICH
UM SIE ZU DREHEN.
SCHWERKRAFT.
DAS TAL SINKT IN DIE ERDE.
DEM GEFÄLLE FOLGEND,
STRÖMEN KLEINE TIERE
AUF DAS ZENTRUM ZU.
EIN STROM AUS WESEN,
WESEN IM STROM.
AM TIEFSTEN PUNKT,
DIREKT UNTER DER SONNE,
ERRICHTEN DIE ANDEREN
EINE MASCHINE AUS STAHL,
NEBEL UND FLEISCH.
DIE SONNE SAUGT
DIE WESEN AN SICH.
DIE MASCHINE ZERMALMT
SIE ZU FEINEM BREI.
IM GLANZ DER SONNE
GERINNT DER BREI
ZU MARMOR UND PORZELLAN,
ZU STRASSEN,
PLÄTZEN UND PALÄSTEN.
WIND WEHT.
RINGS UM DAS ZENTRUM
FLATTERN DIE FAHNEN.
ES IST SCHÖN.
DOCH DANN ZIEHEN
VON IRGENDWOHER
WOLKEN AUF,
VIELLEICHT AUCH RAUCH.
DIE SCHWADEN
VERDUNKELN
DIE SONNE.
UND AUSSEN WIRD,
WAS WIRKLICH WAHR,
PLÖTZLICH
FÜR ALLE
SICHTBAR.
SELBST FÜR DIE ANDEREN.
ES SCHMERZT.
DAS GOLDENE ZEITALTER,
DER HEILIGE SCHEIN,
VERBLASST UND KOLLABIERT.
DAS ÄUSSERE FEGT HEREIN
UND TRÄGT DIE RESTE AB,
STÜCK FÜR STÜCK,
BIS NICHTS MEHR ÜBRIG BLEIBT.
EINZELNE KLEINE TIERE
SITZEN VERDATTERT HERUM.
ES WÄCHST GRAS.
* English translation not available at this time.