Mural painting with electric fountain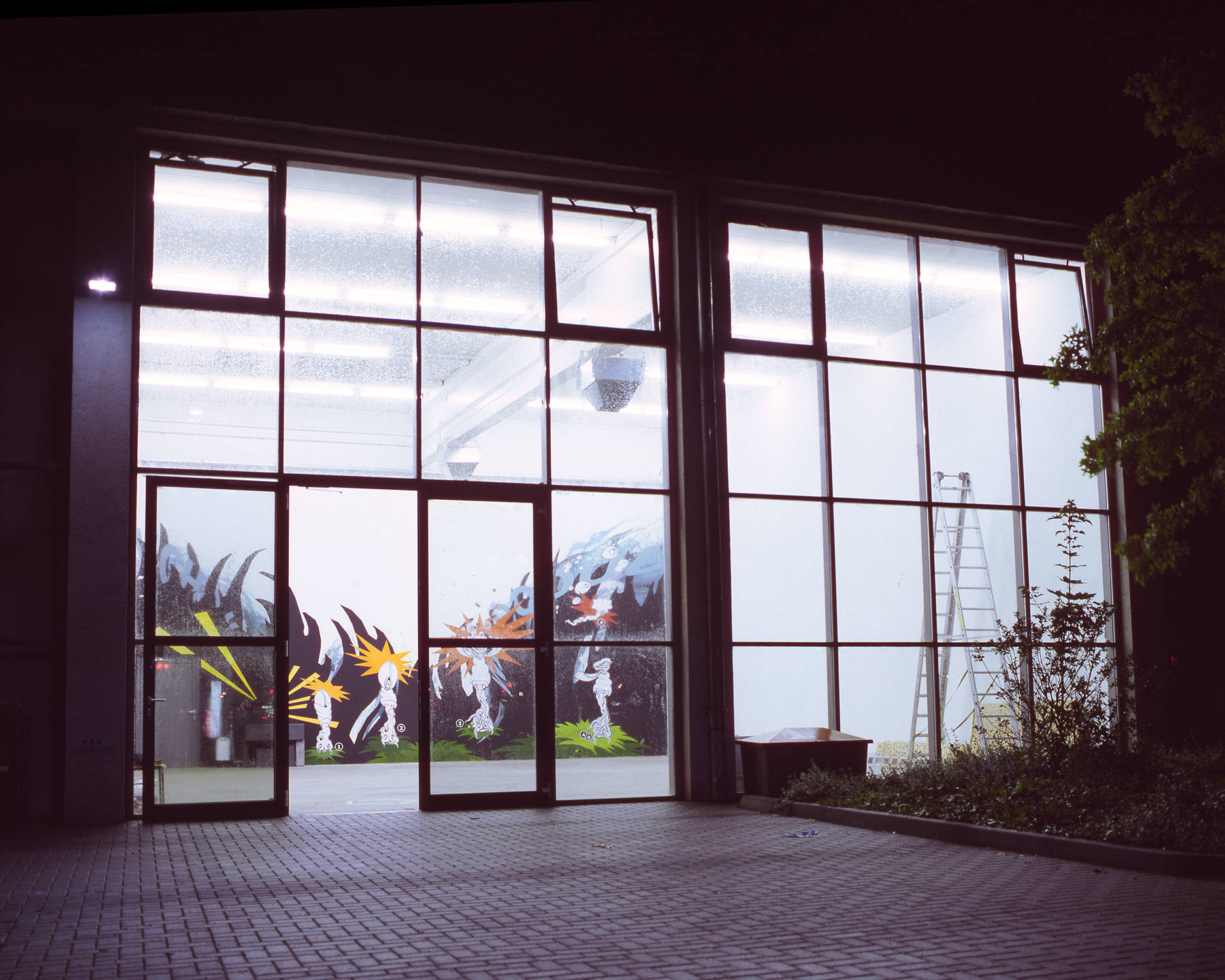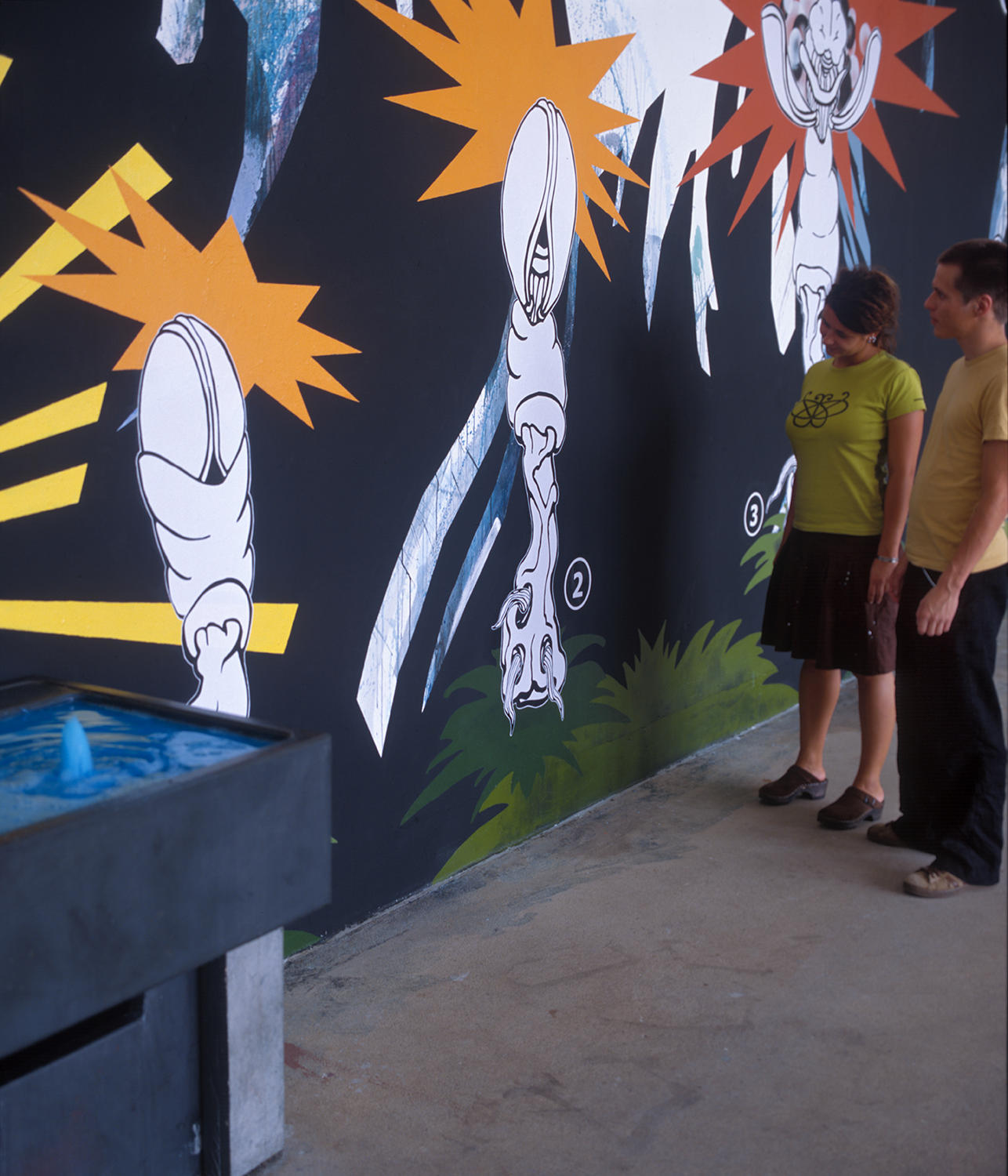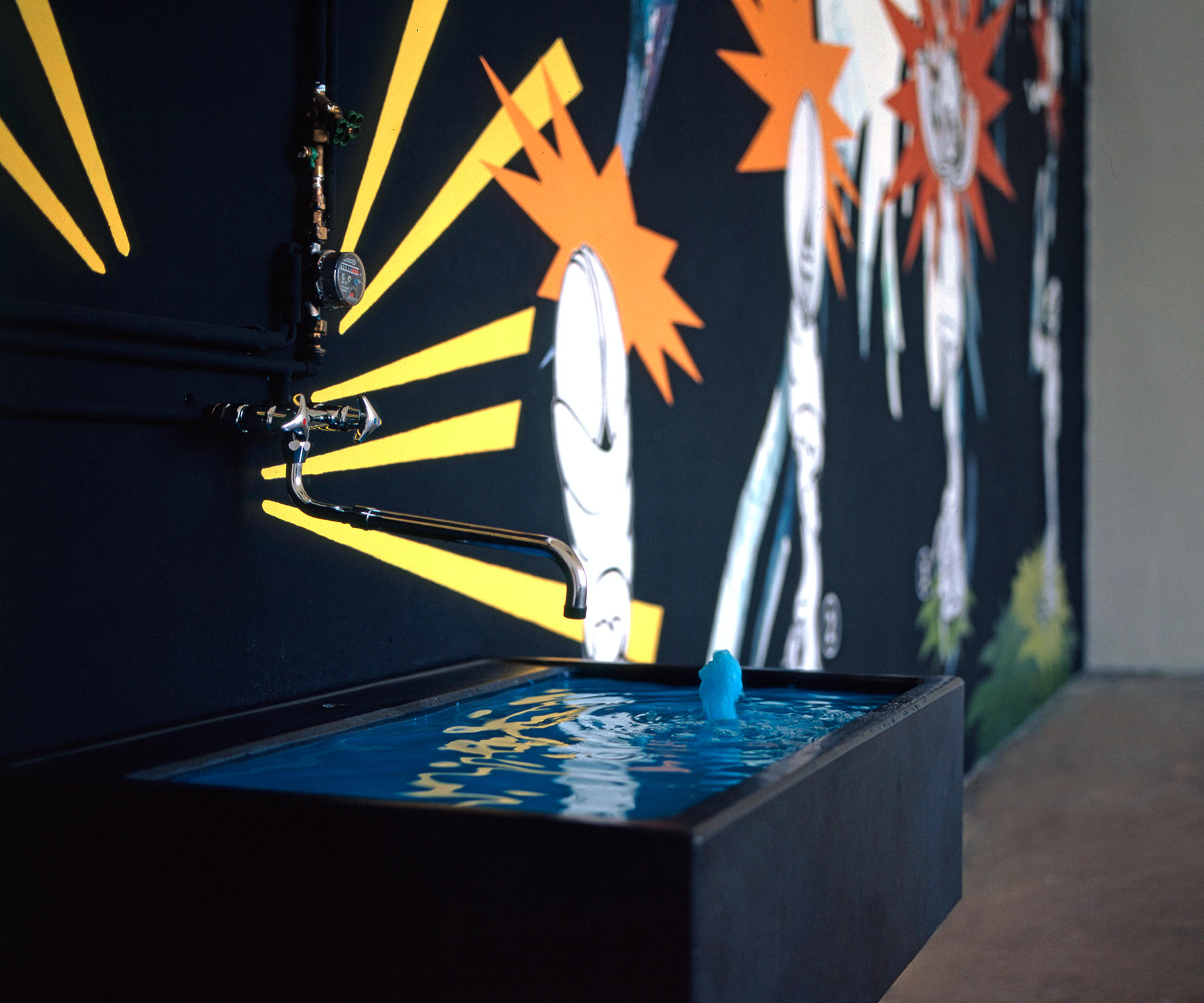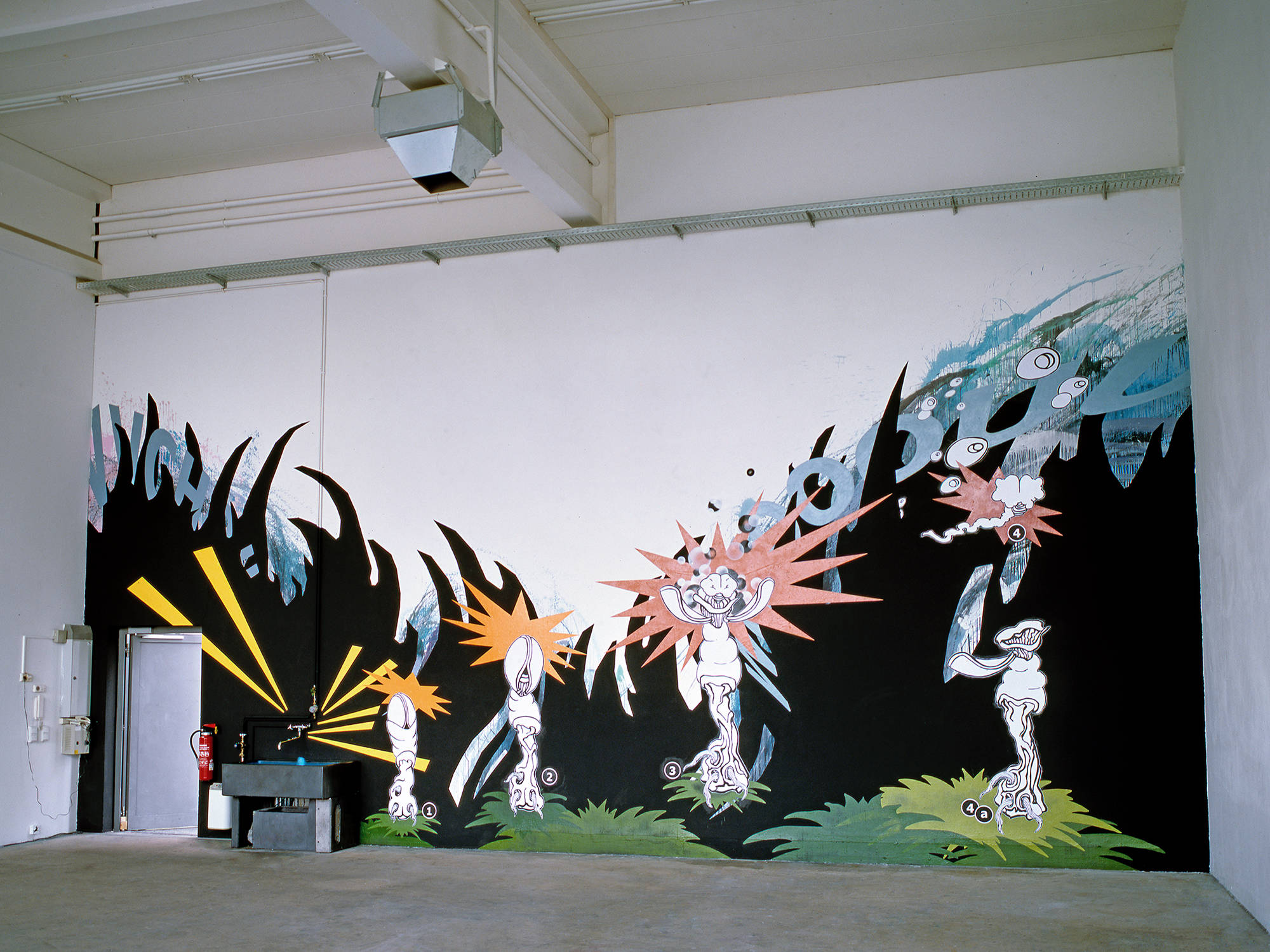 Emulsion paint, acrylic paint, acrylic lacquer, spray paint, wallpapered prints, water, blue tempera, electric fountain pump
11.0 m x 5.5 m
2005
The large-scale mural "TreibHausHirn" ("Greenhouse Brain") was created for a group show in midsummer. Due to its glass facade, the exhibition space would become unbearably hot, just like a greenhouse. The building was also situated next to a busy road, so many passers-by would stop to watch the artists work, especially at night. Occasionally, this could result in the type of interaction which is familiar to zoo animals sitting in plain sight behind glass, being stared at by unapologetic strangers. I responded to this not always pleasant situation by creating a surreal scenery on the wall facing the windows. An observer on the street would have the impression of looking into a giant terrarium, with exotic creatures in an artificial forest. Four larger-than-life wallpaper figures illustrate the life cycle of the Brain Plants, who drink from the Source of Wisdom, a pathetic little fountain in a basin filled with pool-blue water. A fruit capsule ripens and bursts open, releasing a Young Brain which is carried away by the wind.
Script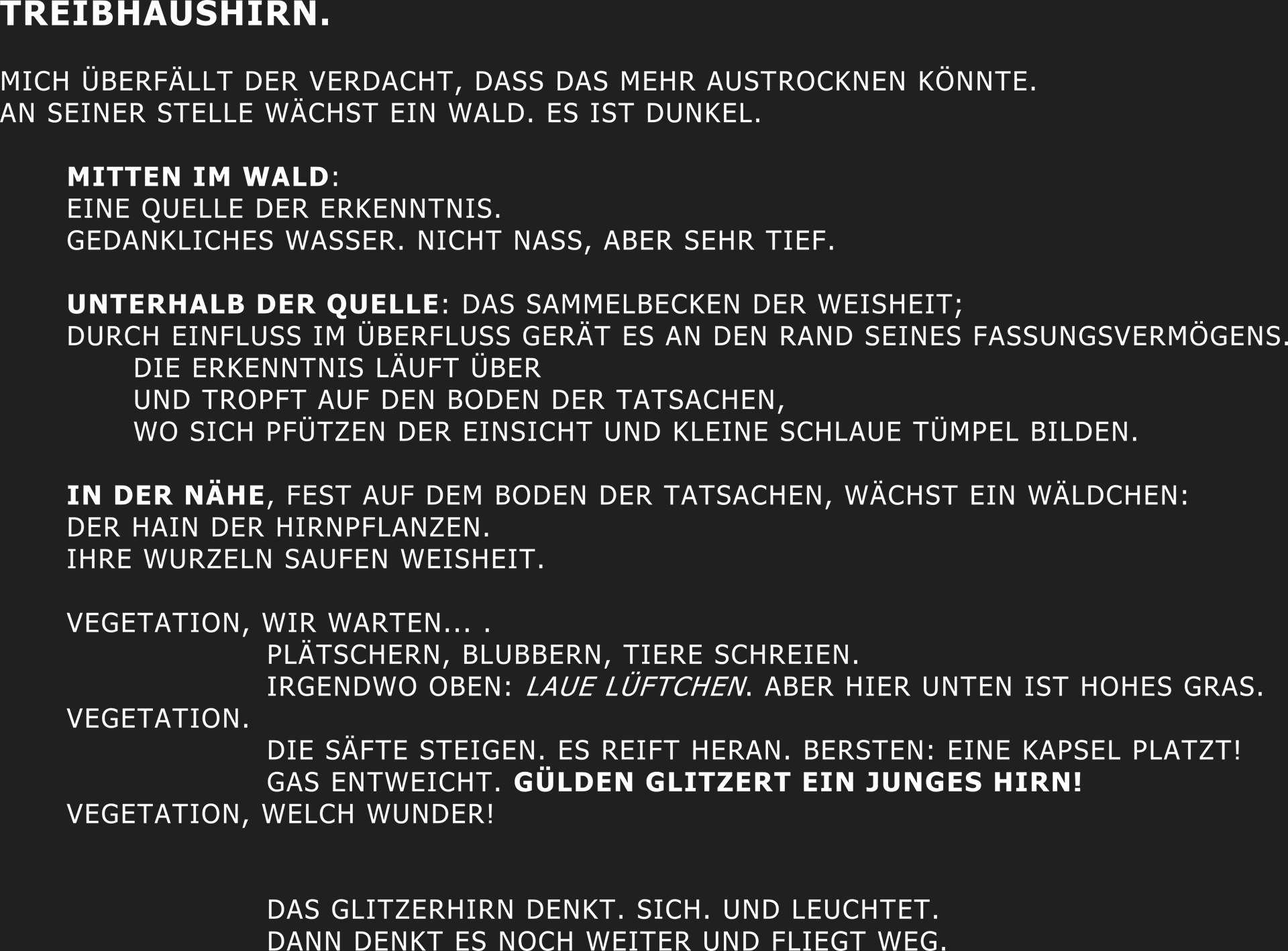 TREIBHAUSHIRN.
MICH ÜBERFÄLLT DER VERDACHT, DASS DAS MEHR AUSTROCKNEN KÖNNTE.
AN SEINER STELLE WÄCHST EIN WALD. ES IST DUNKEL.
MITTEN IM WALD:
EINE QUELLE DER ERKENNTNIS.
GEDANKLICHES WASSER. NICHT NASS, ABER SEHR TIEF.
UNTERHALB DER QUELLE: DAS SAMMELBECKEN DER WEISHEIT;
DURCH EINFLUSS IM ÜBERFLUSS GERÄT ES AN DEN RAND SEINES FASSUNGSVERMÖGENS.
DIE ERKENNTNIS LÄUFT ÜBER
UND TROPFT AUF DEN BODEN DER TATSACHEN,
WO SICH PFÜTZEN DER EINSICHT UND KLEINE SCHLAUE TÜMPEL BILDEN.
IN DER NÄHE, FEST AUF DEM BODEN DER TATSACHEN, WÄCHST EIN WÄLDCHEN:
DER HAIN DER HIRNPFLANZEN.
IHRE WURZELN SAUFEN WEISHEIT.
VEGETATION, WIR WARTEN... .
PLÄTSCHERN, BLUBBERN, TIERE SCHREIEN.
IRGENDWO OBEN: LAUE LÜFTCHEN. ABER HIER UNTEN IST HOHES GRAS.
VEGETATION.
DIE SÄFTE STEIGEN. ES REIFT HERAN. BERSTEN: EINE KAPSEL PLATZT!
GAS ENTWEICHT. GÜLDEN GLITZERT EIN JUNGES HIRN!
VEGETATION, WELCH WUNDER!
DAS GLITZERHIRN DENKT. SICH. UND LEUCHTET.
DANN DENKT ES NOCH WEITER UND FLIEGT WEG.
* English translation not available at this time.