Drawings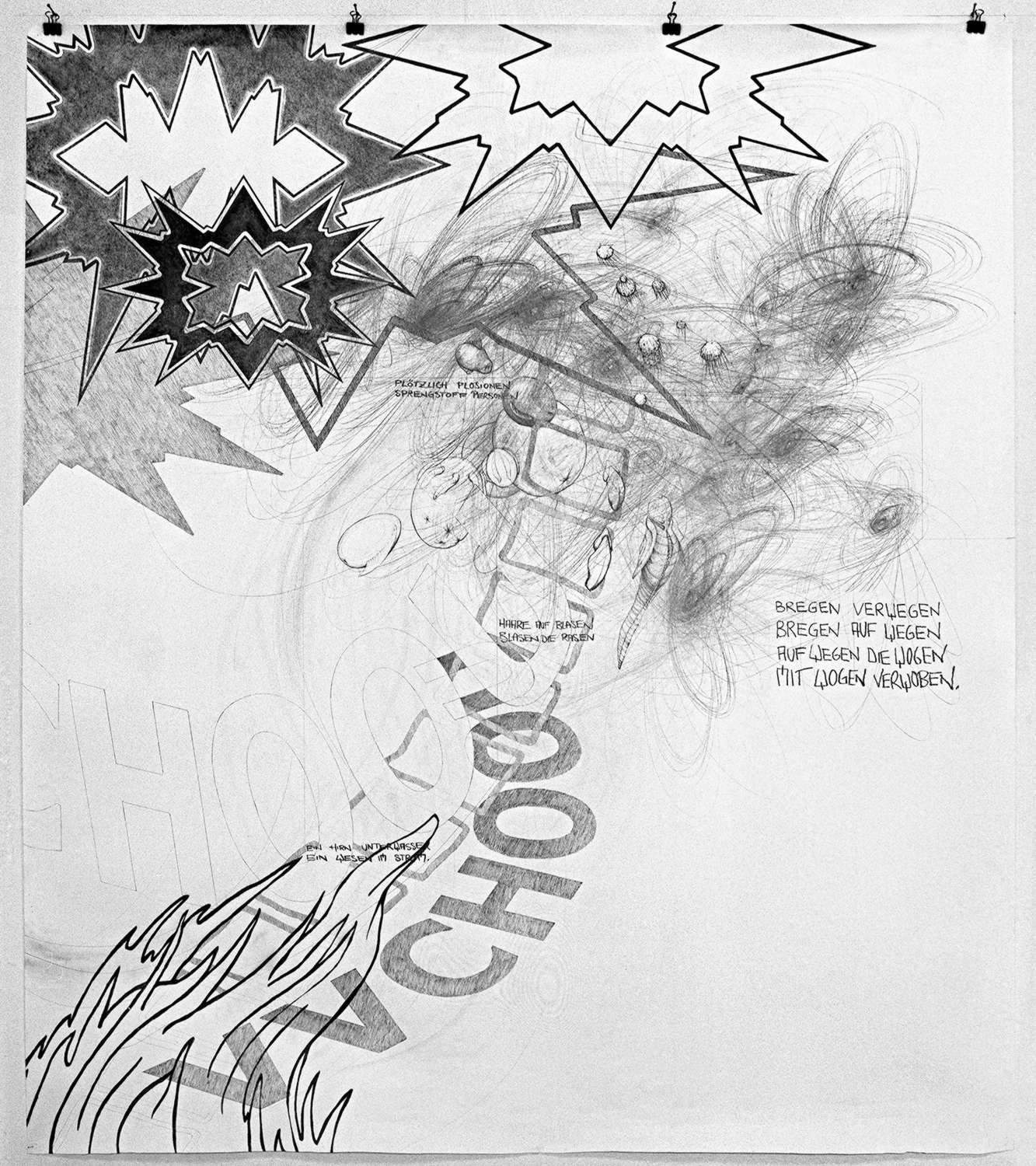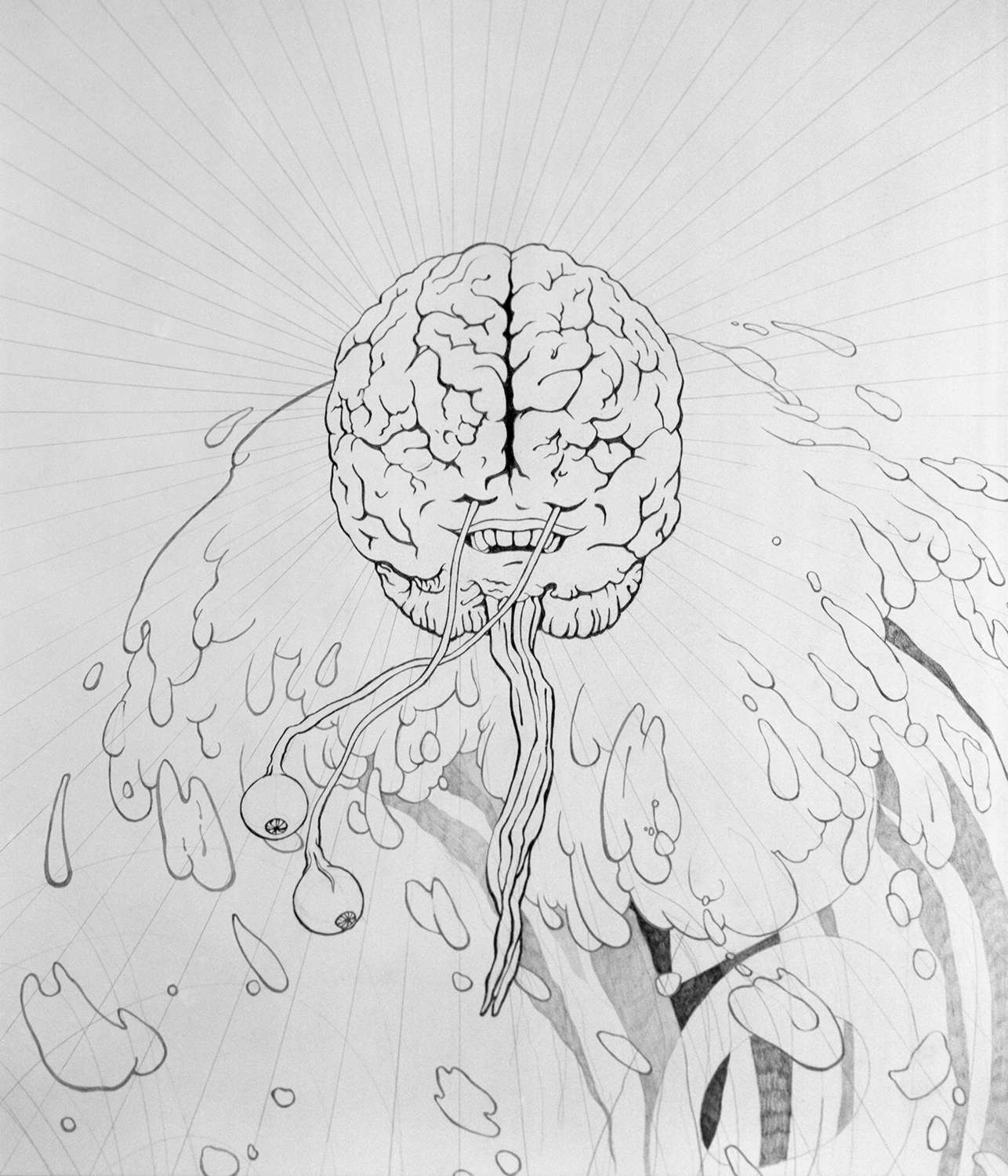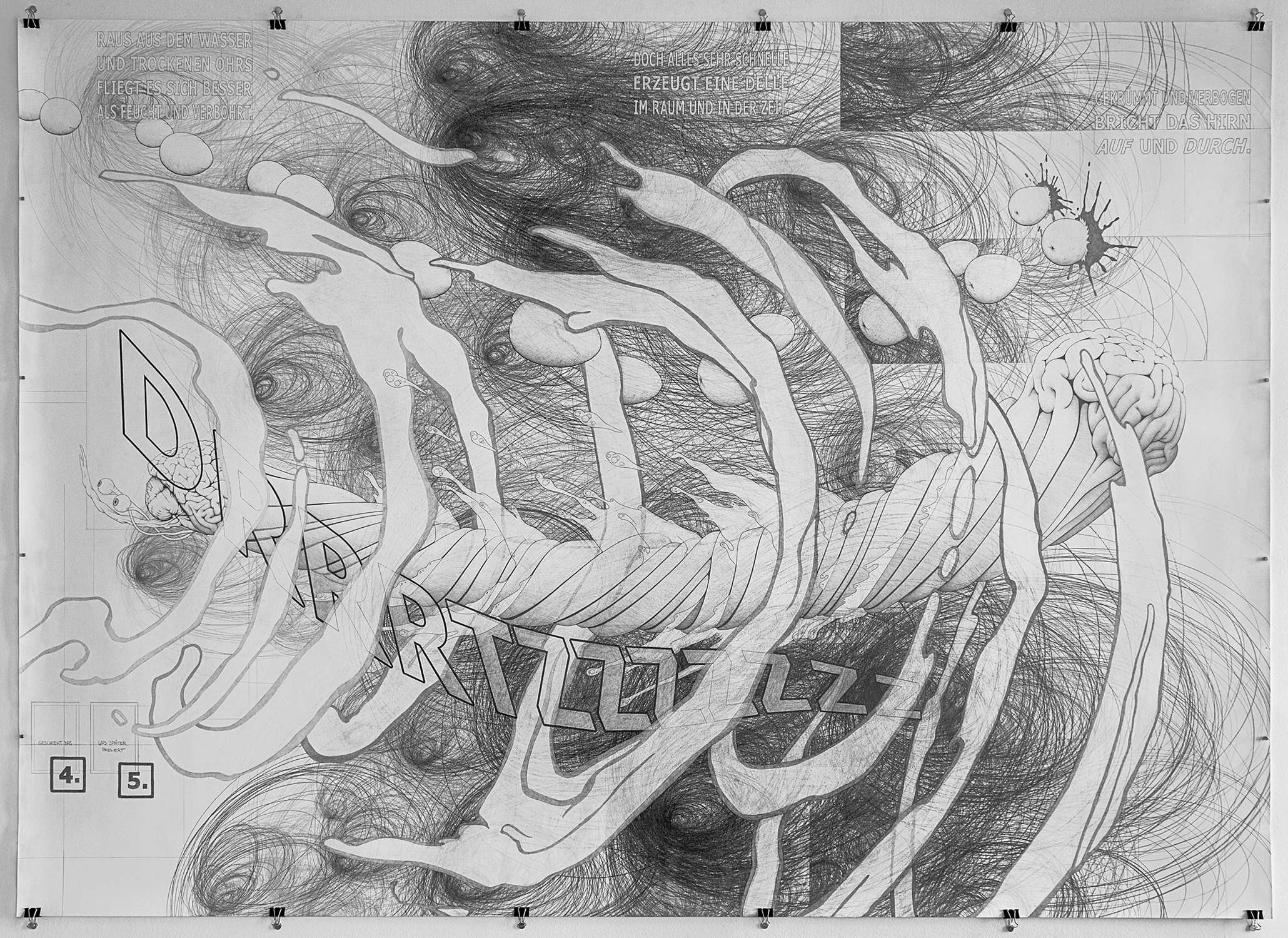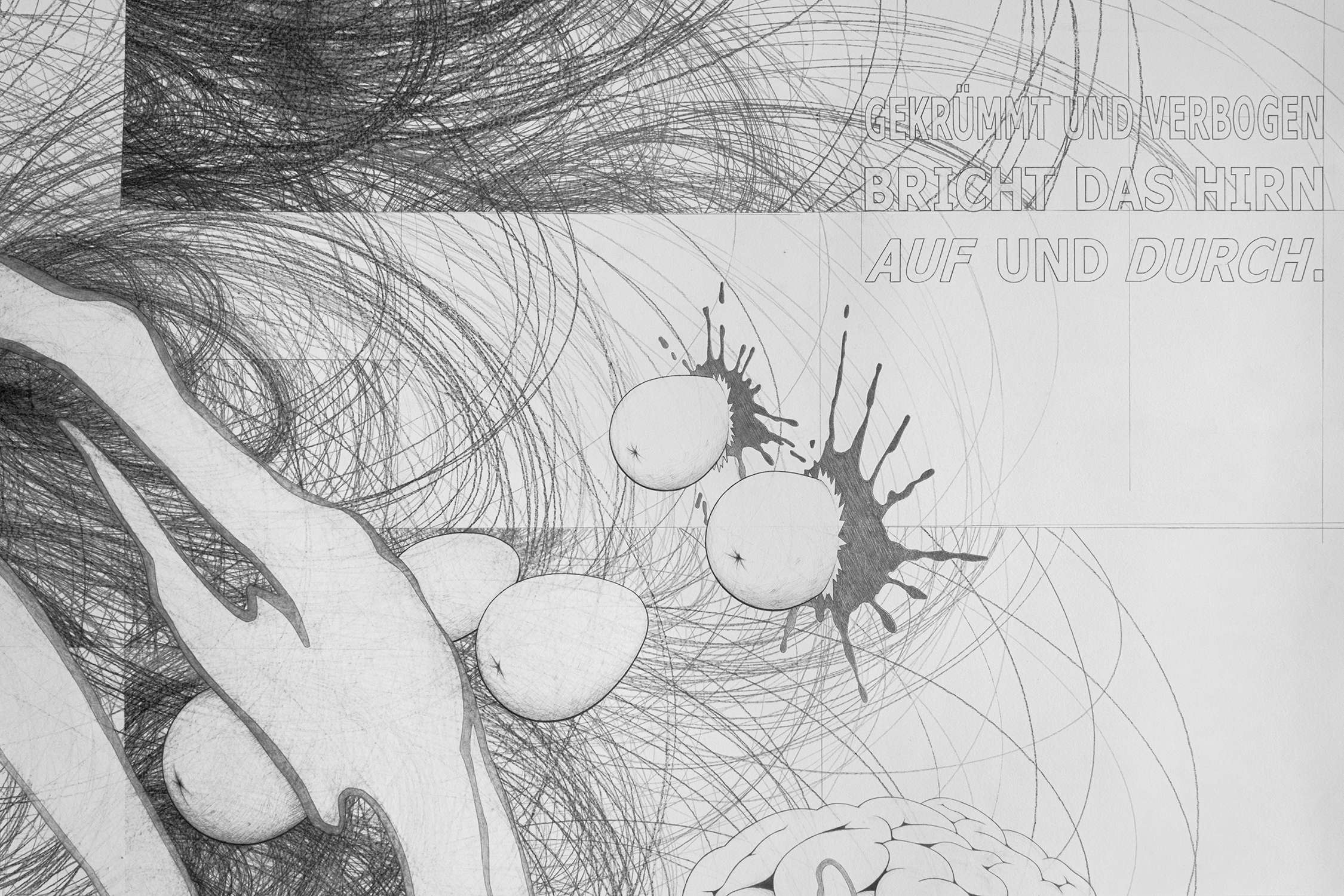 Pencil and graphite crayon on cold pressed watercolor paper
1st drawing
"BREGEN VERWEGEN" (2005):
150 cm x 165 cm
2nd drawing
"DAS BLATT, ES WENDET" (2006):
150 cm x 253 cm
3rd drawing
"AUF UND DURCH" (2006, 2017):
210 cm x 150 cm
4th drawing
"IM N-DIMENSIONALEN MASCHINENRAUM" (2019-):
150 cm x 160 cm
"BREGEN AUF WEGEN" ("Brainways") is a series of large-scale pencil drawings continuing the storyline of the two earlier works "TreibHausHirn" and "Leben in LaLagune": In a dramatic turn of events, the Young Brain manages to escape the Mainstream. High in the sky it resumes its journey, a little less wet behind the ears perhaps, its initial euphoric smile quickly fading when it encounters another barrage of obstacles and, as the plot continues, undergoes numerous metamorphoses and transformations. In the end, its life-cycle (and thus the narrative) repeats from the beginning. Each drawing represents a scene in the ongoing narrative. As the works are very detailed, the viewer needs to step up close and let their eyes wander through the image. Different techniques are employed for each element of the drawing; free improvisations, scribbling and smearing as well as computer-generated lettering and graphics. When arranged in a specific order, the drawings will form a narrative sequence, similar to the individual panels in a comic strip.
Script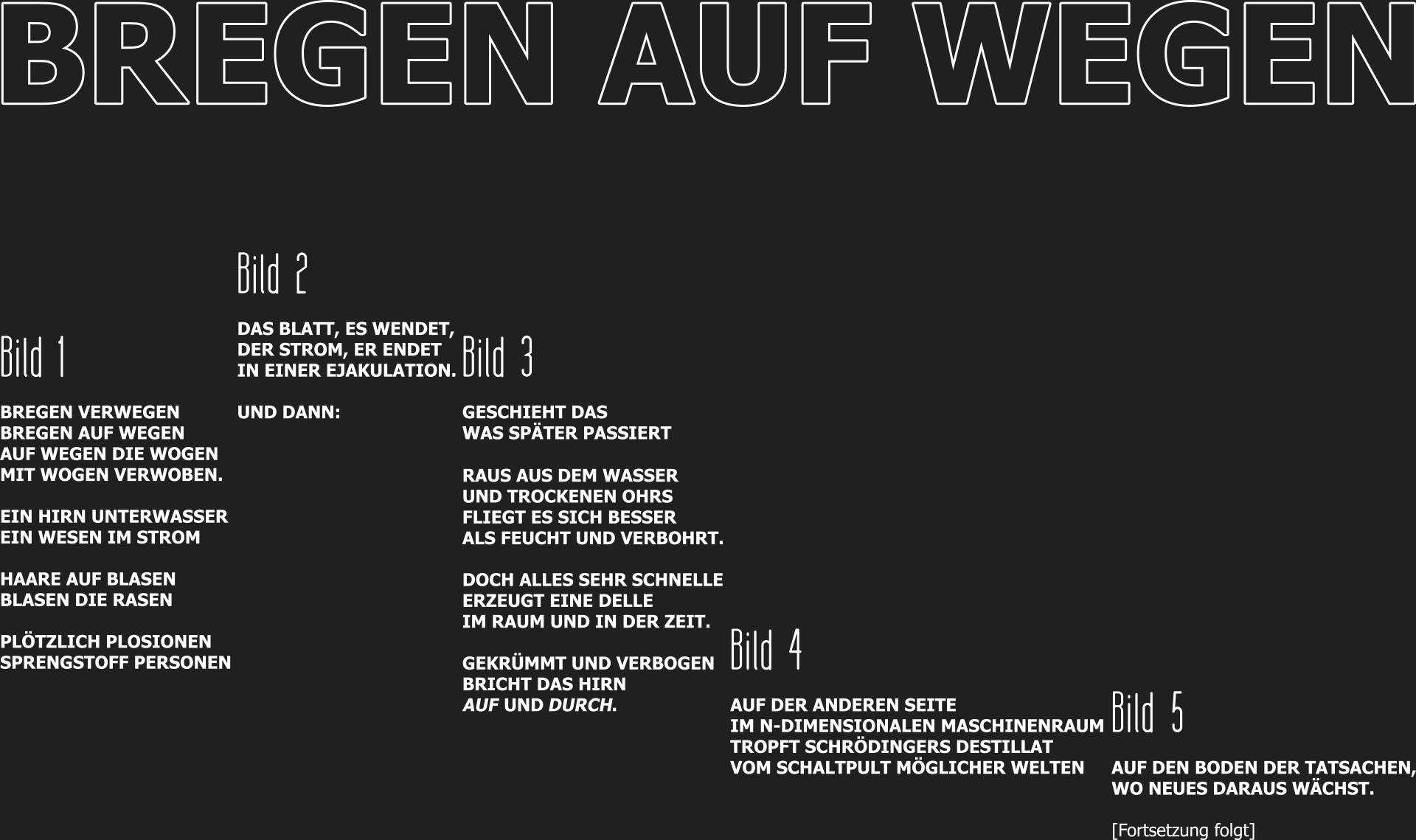 BREGEN AUF WEGEN
Bild 1
BREGEN VERWEGEN
BREGEN AUF WEGEN
AUF WEGEN DIE WOGEN
MIT WOGEN VERWOBEN.
EIN HIRN UNTERWASSER
EIN WESEN IM STROM
HAARE AUF BLASEN
BLASEN DIE RASEN
PLÖTZLICH PLOSIONEN
SPRENGSTOFF PERSONEN
Bild 2
DAS BLATT, ES WENDET,
DER STROM, ER ENDET
IN EINER EJAKULATION.
UND DANN:
Bild 3
GESCHIEHT DAS
WAS SPÄTER PASSIERT
RAUS AUS DEM WASSER
UND TROCKENEN OHRS
FLIEGT ES SICH BESSER
ALS FEUCHT UND VERBOHRT.
DOCH ALLES SEHR SCHNELLE
ERZEUGT EINE DELLE
IM RAUM UND IN DER ZEIT.
GEKRÜMMT UND VERBOGEN
BRICHT DAS HIRN
AUF UND DURCH.
Bild 4
AUF DER ANDEREN SEITE
IM N-DIMENSIONALEN MASCHINENRAUM
TROPFT SCHRÖDINGERS DESTILLAT
VOM SCHALTPULT MÖGLICHER WELTEN
Bild 5
AUF DEN BODEN DER TATSACHEN,
WO NEUES DARAUS WÄCHST.
[Fortsetzung folgt]
* English translation not available at this time.