つぶやきの中のつぼみ /
THE INTESTINES OF POTENTIAL
Sound and video installation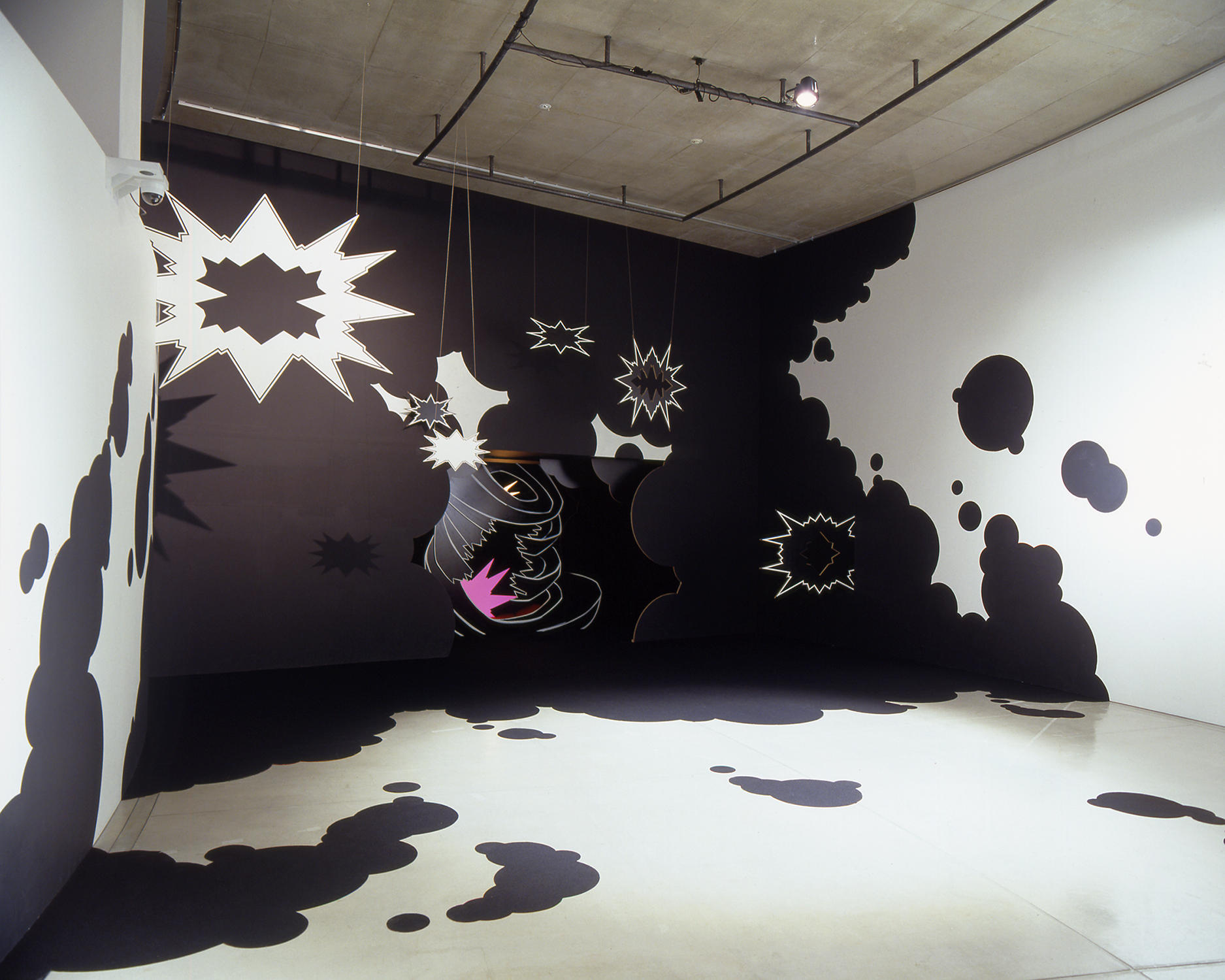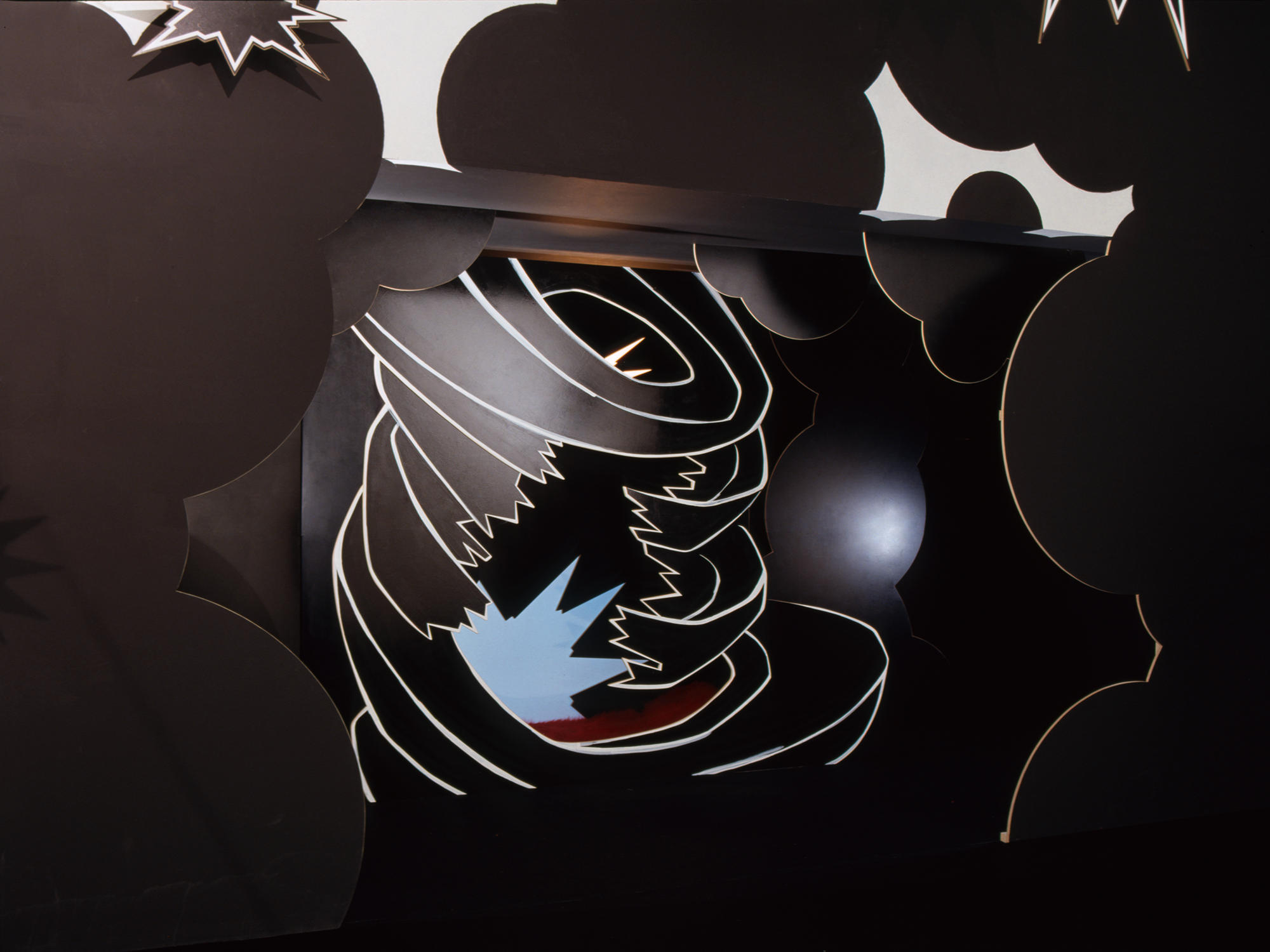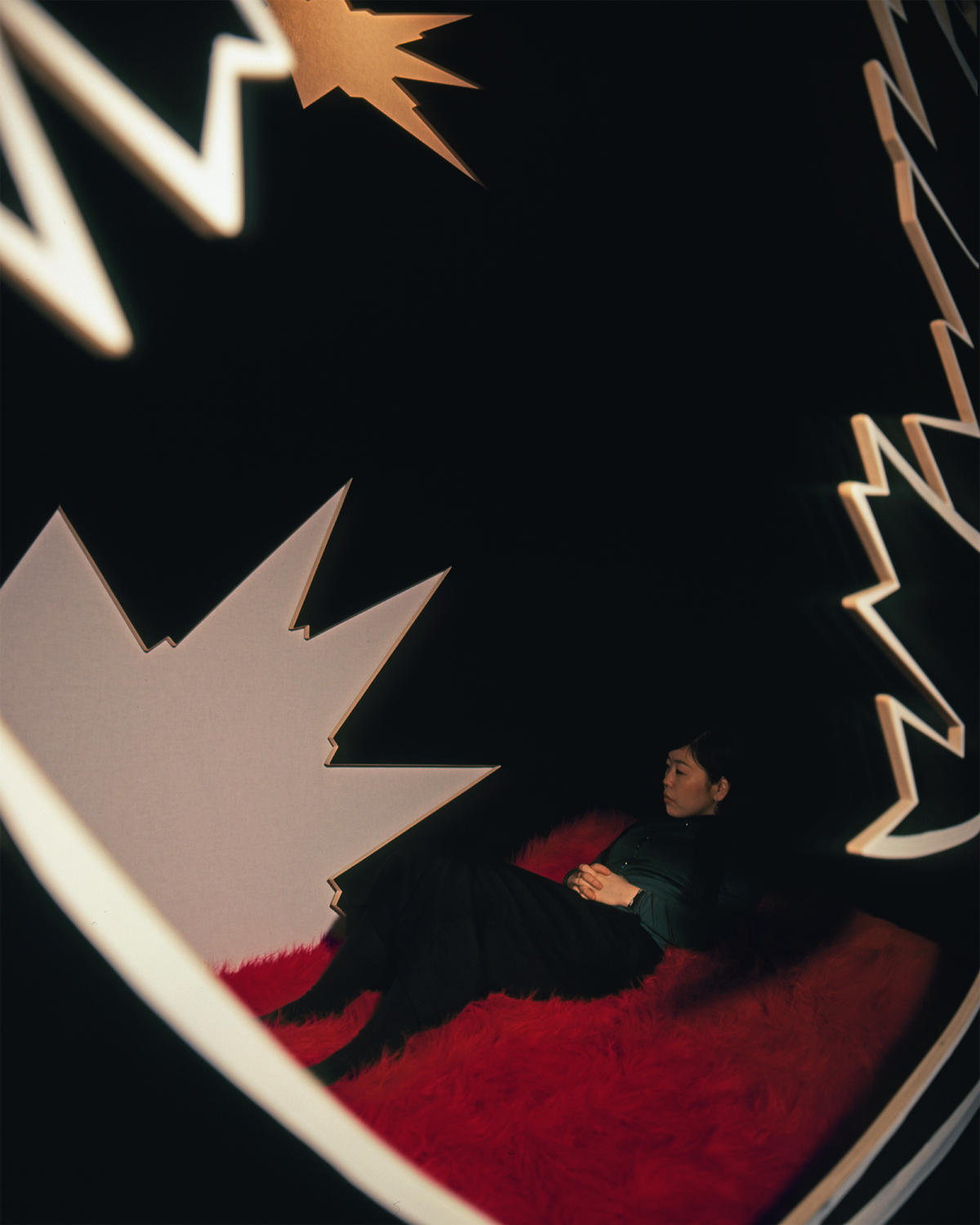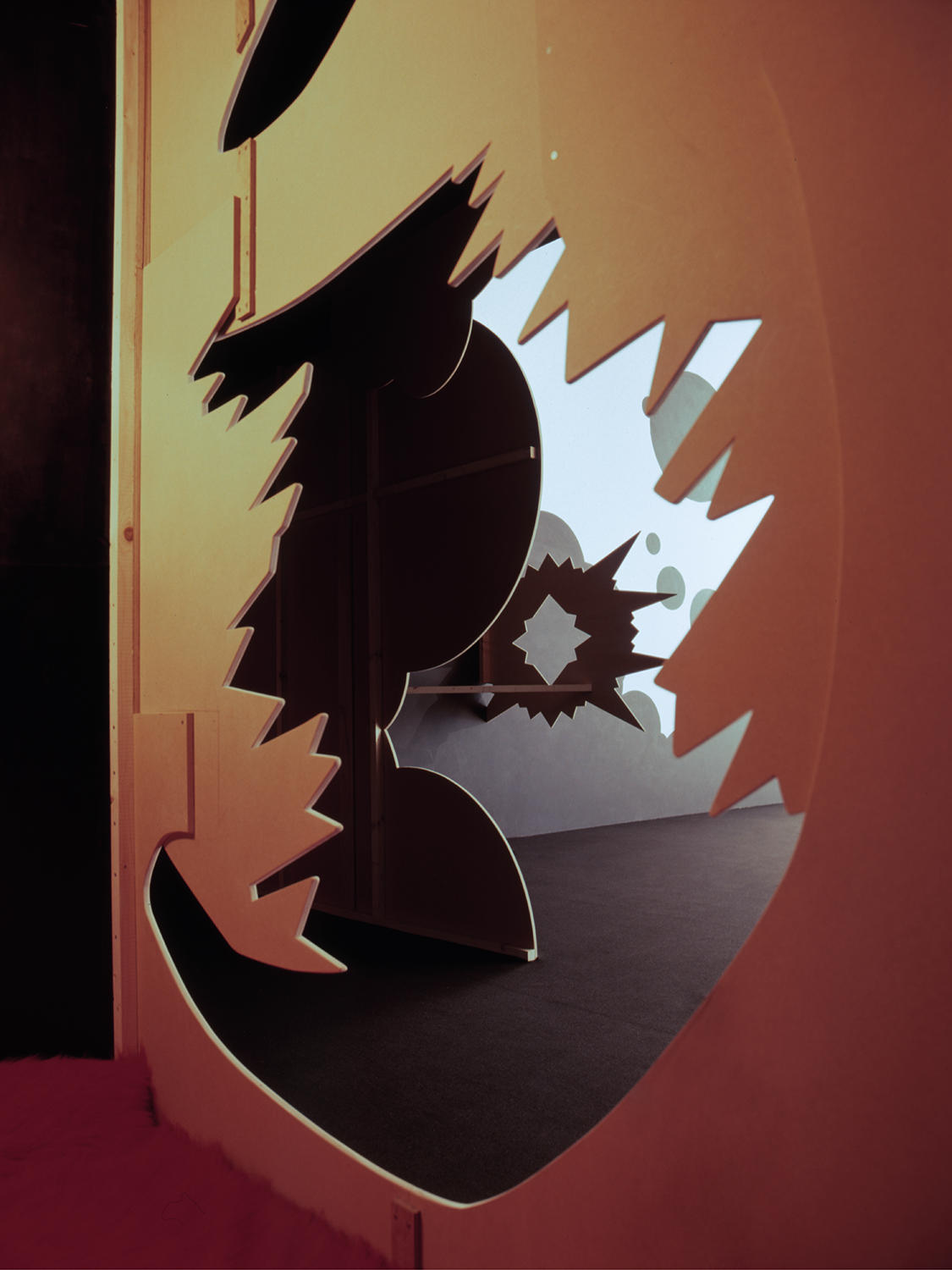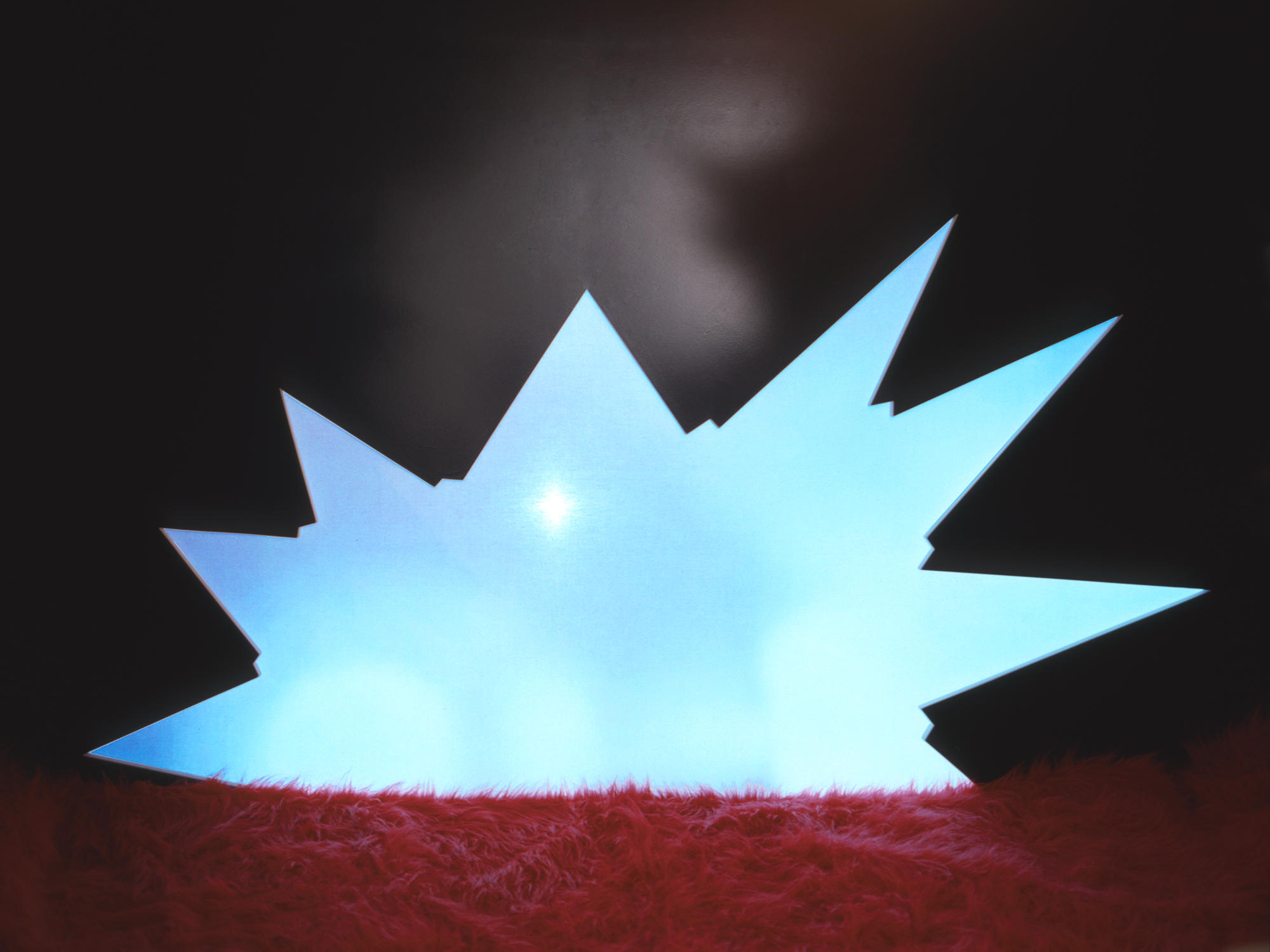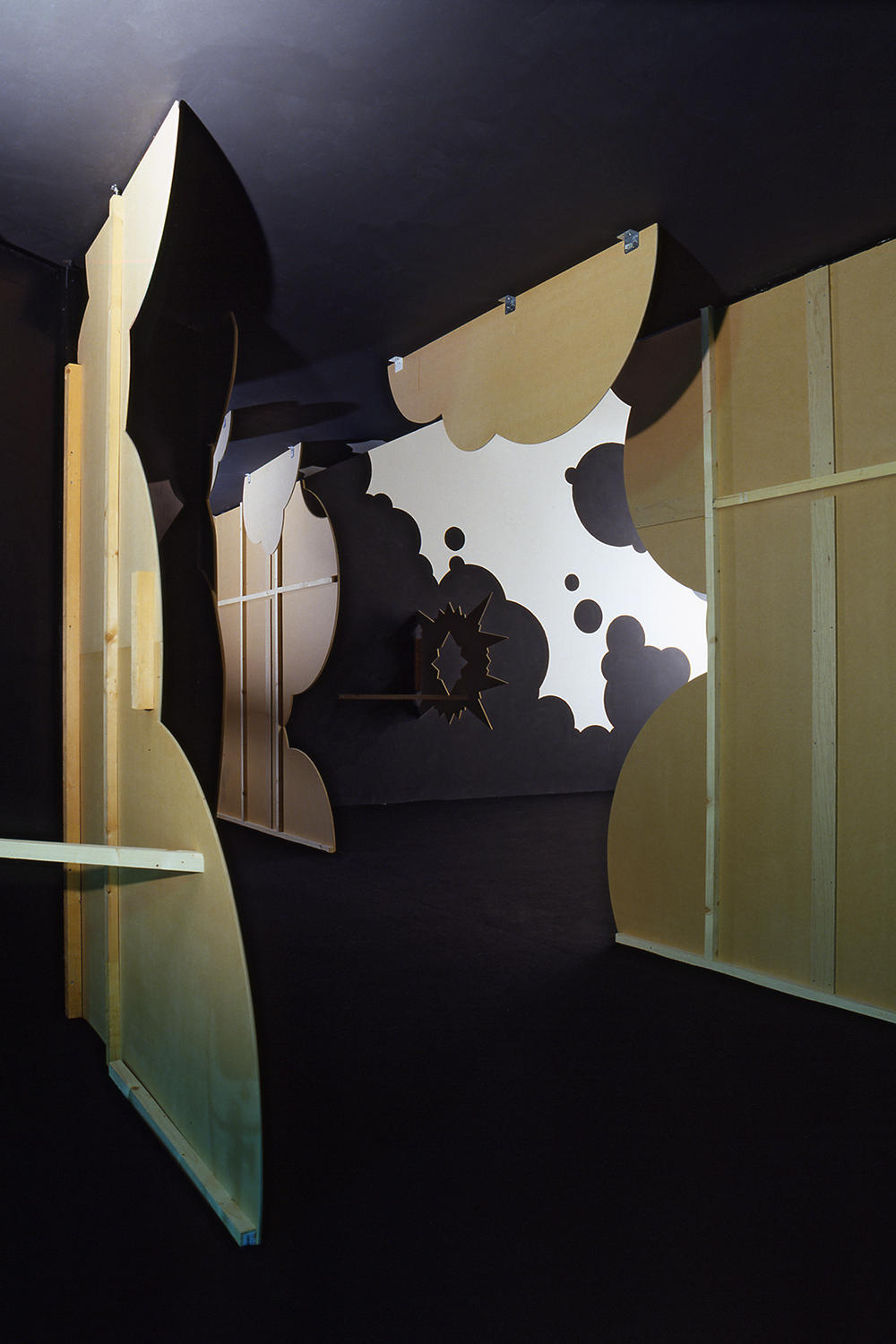 つぶやきの中のつぼみ
Sound and video installation
MDF, wood, black carpet, red fake fur, canvas, emulsion paint, acrylic lacquer, spray paint, spotlights, soundtrack, rear projection
8.8 m x 6.0 m x 16.0 m
Central chamber: 2.0 x 2.6 x 1.5 m
3:29 min (continuous loop)
2006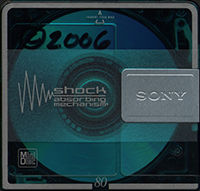 Installation soundtrack (3:29 min)
16-bit, 48 kHz stereo
I developed this work during a 3-month residency program at Aomori Contemporary Art Centre (ACAC) in northern Japan, specifically for the vast, ring-shaped gallery space designed by Tadao Ando, where it was part of the resident artists' exhibition "SUSPENDED". The installation is conceived as a walk-in painting, expanding the imagery of my earlier two-dimensional murals into three-dimensional space. Borrowing from 19th-century stage design, I placed the individual image elements in the exhibition space, one behind the other, similar to backdrops in a theater. To a visitor approaching the installation, these layers appear as one image. But the illusion is shattered as soon as someone enters the small chamber, cushioned with red fake fur, at the center of the installation and turns around to look behind the scenes, which have been left raw and untreated. Outside of the chamber, the soundtrack's music and voices remain unintelligible. Those who enter and lie down on the soft fake fur however, can listen to the intimate words.
On the closing day of the exhibition, the installation served as a stage for the sound performance "SWEEPING UP THE SWOOOSH" with Emiko Suzuki.
Script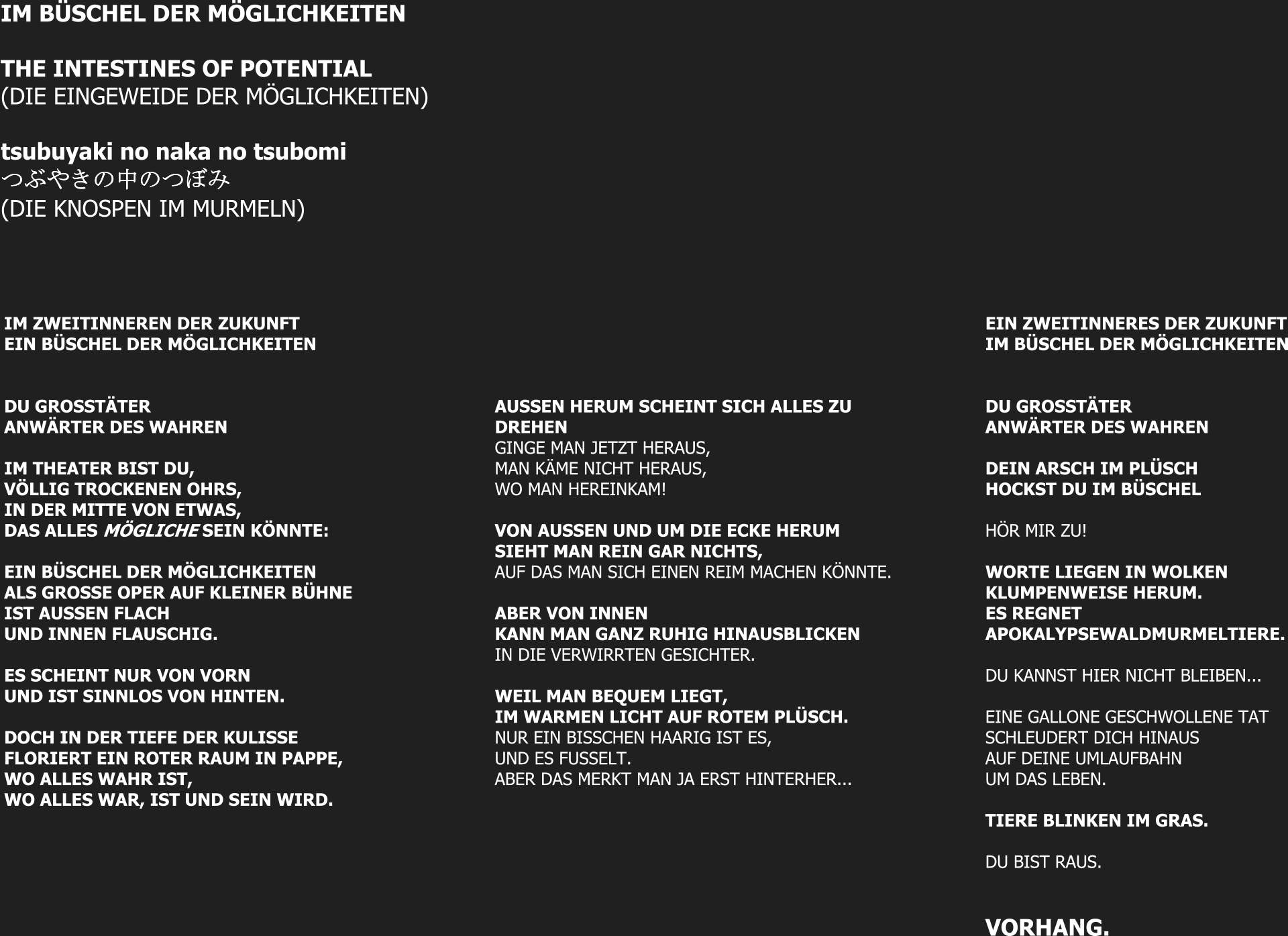 IM BÜSCHEL DER MÖGLICHKEITEN
THE INTESTINES OF POTENTIAL
(DIE EINGEWEIDE DER MÖGLICHKEITEN)
tsubuyaki no naka no tsubomi
つぶやきの中のつぼみ
(DIE KNOSPEN IM MURMELN)
IM ZWEITINNEREN DER ZUKUNFT
EIN BÜSCHEL DER MÖGLICHKEITEN
DU GROSSTÄTER
ANWÄRTER DES WAHREN
IM THEATER BIST DU,
VÖLLIG TROCKENEN OHRS,
IN DER MITTE VON ETWAS,
DAS ALLES MÖGLICHE SEIN KÖNNTE:
EIN BÜSCHEL DER MÖGLICHKEITEN
ALS GROSSE OPER AUF KLEINER BÜHNE
IST AUSSEN FLACH
UND INNEN FLAUSCHIG.
ES SCHEINT NUR VON VORN
UND IST SINNLOS VON HINTEN.
DOCH IN DER TIEFE DER KULISSE
FLORIERT EIN ROTER RAUM IN PAPPE,
WO ALLES WAHR IST,
WO ALLES WAR, IST UND SEIN WIRD.
AUSSEN HERUM SCHEINT SICH ALLES ZU DREHEN
GINGE MAN JETZT HERAUS,
MAN KÄME NICHT HERAUS,
WO MAN HEREINKAM!
VON AUSSEN UND UM DIE ECKE HERUM
SIEHT MAN REIN GAR NICHTS,
AUF DAS MAN SICH EINEN REIM MACHEN KÖNNTE.
ABER VON INNEN
KANN MAN GANZ RUHIG HINAUSBLICKEN
IN DIE VERWIRRTEN GESICHTER.
WEIL MAN BEQUEM LIEGT,
IM WARMEN LICHT AUF ROTEM PLÜSCH.
NUR EIN BISSCHEN HAARIG IST ES,
UND ES FUSSELT.
ABER DAS MERKT MAN JA ERST HINTERHER...
EIN ZWEITINNERES DER ZUKUNFT
IM BÜSCHEL DER MÖGLICHKEITEN
DU GROSSTÄTER
ANWÄRTER DES WAHREN
DEIN ARSCH IM PLÜSCH
HOCKST DU IM BÜSCHEL
HÖR MIR ZU!
WORTE LIEGEN IN WOLKEN
KLUMPENWEISE HERUM.
ES REGNET
APOKALYPSEWALDMURMELTIERE.
DU KANNST HIER NICHT BLEIBEN...
EINE GALLONE GESCHWOLLENE TAT
SCHLEUDERT DICH HINAUS
AUF DEINE UMLAUFBAHN
UM DAS LEBEN.
TIERE BLINKEN IM GRAS.
DU BIST RAUS.
* English translation not available at this time.